Twisted Wheel
Live upstairs at The Bodega • 14+ event • early doors
Saturday 22nd September 2012
Supported by:

Fields

Doors open:

at 7:00pm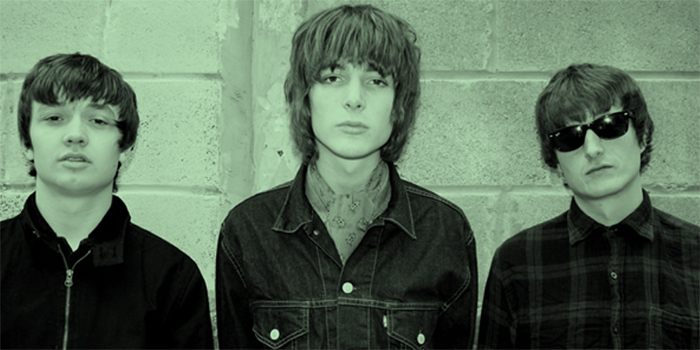 TWISTED WHEEL are an indie rock band from Oldham, Greater Manchester, England.
Originally formed in February 2007 in Saddleworth, Oldham, Greater Manchester by guitarist and singer Jonny Brown and bassist Rick Lees, later joined by drummer Adam Clarke. Frontman Jonny Brown heard the name in a Paul Weller track "Into Tomorrow", where the lyrics say "Round and round like a twisted wheel, Spinning in attempt to find the feel" and thought it really suited the music. Twisted Wheel were booked as one of the support acts for Oasis's 2009 Heaton Park concerts. Embraced for their original, strong melodies, random, psychedelic themes and Brown's irreverent poignant lyrics, the band soon gained a following amongst old mods/punks and younger heads looking for music which represented their generation. Their ferocious and lo-fi style along with intense live sets quickly labelled them as punk rock although influences span folk and 50s/60s bands too. Twisted Wheel cite Davy Graham, Bob Dylan, The Stooges The Small Faces, The Who, The Jam, The Rolling Stones and Oasis among their main influences.
The band signed to Columbia Records in January 2008(against their will). Their first single, "She's A Weapon", was released in April 2008 to high acclaim by Radio 1's Zane Lowe, NME and Q. Their follow-up record, a four-track EP entitled You Stole The Sun, was released in July 2008. The band's debut album Twisted Wheel, produced in Los Angeles by Dave Sardy (producer of Oasis' 'Dig Out Your Soul' and Don't Believe The Truth) was recorded in June 2008 and released on 13 April 2009. The first single from the album, "Lucy The Castle", was released in November 2008, with the follow-up, "We Are Us", released in March 2009. The album received mixed reviews, but has seen gained them a huge following throughout the UK. A huge headline gig at Manchester's Academy 1 in particular. On 10 April 2010, Twisted Wheel announced that the unreleased song Tell The World was to become available as a free download to all of the fans on their mailing list, as a thank you for the support they have received on their current tour.
The band have spent the last three years on the road building a massive loyal audience without major radio play.[citation needed] Despite no immediate follow-up to the album, the fan base has continued to grow at a rapid rate. Twisted Wheel have also supported heavyweight rock bands like Kasabian, The View, The Enemy and were the main support acts of Oasis in the homecoming tour of 2009. They have also supported Paul Weller (a big fan) on a couple of tours and played at Reading, Leeds, T in the Park, Glastonbury and many other large UK festivals. The band were met with an emphatic reception whilst on tour in Japan, both during support shows with Jet as well as headline shows. They were voted PRS second most gigged band in 2009.
The follow-up to the band's debut album will be released some time this year following a change in the band's line-up.
Eoghan Clifford is now on drums and Stephen Evans plays bass and provides backing vocals. The band have been creating "more hardcore rock n roll punk melodies" with a focus on authentic texture of sound and lyric – a return to structure and immediacy missing from recent rock output.
A sold-out short UK tour was announced on 30 September until late December 2010, featuring the new line-up in full for the first time and introducing several of the new songs ('Better Man', "New Boy', the already favourite 'UK Blues', 'iPod Generation', 'Poppy Love' and 'Do It Again') from the forthcoming album.
The band are currently recording this with a headline tour planned from April 17, 2011 and the release of the second album later this year. Jonny Brown says he wants the sound this time to be as visceral as possible, reminiscent of the texture found in early rock recordings from the 50s and 60s and to avoid over-production at all costs. Their sound has been described as old school gritty rock 'n' roll reminiscent of the early Jam.
The band have been noted as "a breath of fresh air" by Liam Gallagher.
They also have a fan in Paul Weller, who came to watch them at London's 100 Club and subsequently invited the band on his summer forest tour in 2009. He has also offered the use of his studios for any recordings. They have also done successful, commercially-used covers of The Jam's 'That's Entertainment' and The Zombies 'She's Not there'.
Their music ranges from the poignant ballads of real characters and situations ('Strife', 'Bouncing Bomb') to the raucous war cries of frustrated 21st century youth and timeless punk anthems like 'Oh What Have You Done'. The band describe themselves as a mixture of 70s punk (Sex Pistols, The Clash, Stiff Little Fingers) and 60s rock and roll (Rolling Stones, Kinks, The Who) with a pinch of Oasis thrown in. They also say that their music is energetic, truthful and raw and captures the energy of their punk souls and personalities. Other influences of the band include The Jam, The Stooges, Small Faces, The Smiths, The Happy Mondays and The Stone Roses. ••• Wikipedia
TWISTED WHEEL  •  Website    ///    TWISTED WHEEL  •  FaceBook    ///    TWISTED WHEEL  •  Twitter
with special guests: FIELDS  •  FaceBook page
Comments