Future Of The Left
Live upstairs at The Bodega • 14+ event • early doors
Friday 8th June 2012
Supported by:

t.b.c.

Doors open:

at 7:00pm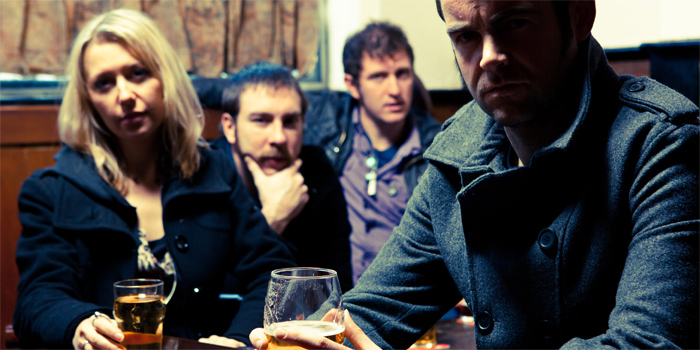 FUTURE OF THE LEFT was formed by singer/guitarist Andy "Falco" Falkous and drummer Jack Egglestone, both previously of Cardiff band mclusky, alongside singer/bassist Kelson Mathias, formerly of the Ammanford-based group Jarcrew. The band previously featured Hywel Evans, who has since gone on to start a math rock band, Truckers of Husk - he was also a former member of Jarcrew towards the end of Jarcrew's tenure (Evans is also credited as a writer on Fingers Become Thumbs' B-side, The Fibre Provider). The band formed in mid-2005 after both mclusky and Jarcrew split up within two months of each other at the beginning of the year - this was due to tensions within both bands. The band was signed to Too Pure who had also signed Mclusky, however the umbrella company Beggars Group disbanded Too Pure, transferring the band to 4AD.
Their debut album, Curses, was released on 24 September 2007 in the UK and 1 October in Japan. A surprise to some fans of Jarcrew and mclusky was the band's occasional move towards songs with a synthesizer, namely a Roland Juno-60, in favour of Falco's guitar - this has been met with mixed reactions both live and on record, but reviews and discussions on the band's messageboard have, on the whole, been extremely positive (including some lucrative - and favourable - coverage from the NME, who have been surprisingly complimentary about the group when considering their apathy towards the members' prior groups). On 8 August 2007, Too Pure released a podcast of Falco discussing Curses - as well as his opinion on a number of other topics - with Radio Wales DJ Huw Stevens.
Falkous revealed in an early 2008 online blog entry that work had commenced on the second album - new material began to creep into the band's live performances, including a number of songs that feature distinctively more ambitious use of Falkous' synthesizer. The band's bolstered profile with the NME led to the group being invited onto the bill of the NME Awards tour, supporting Les Savy Fav at London Astoria. On 8 April 2008, their fourth single "Manchasm" was released (with album track "Suddenly It's A Folk Song" and new recording "Sum Of All Parts" as B-sides), receiving a single of the week recommendation from the NME. The band toured extensively during 2008, and even surprised audiences in Australia with a cover of signature mclusky track Lightsabre Cocksucking Blues - the performance was recorded and a video appeared on YouTube shortly afterwards. They appeared at the Reading and Leeds Festivals on the NME/BBC Radio 1 stage on Friday 22nd and Saturday 23 August. The band then toured in the United States with Against Me! and Ted Leo and the Pharmacists till the end of October 2008. On 21 November 2008, Future Of The Left cancelled the remainder of their tour of the UK, China and Australia to concentrate on recording the new album. In a statement the band said, We have been unable to write the second record and we are increasingly aware of the need to do so. We want to get it out before summer so we can spend next year playing it to people. It is against everything the band stands for to pull shows, or anything that we have already committed to doing, and we apologise to everyone who had bought a ticket or was going to come along. We will be back as soon as we can next year and we promise to make it worth the wait. They released their second album Travels with Myself and Another on 22 June 2009. However, the album was leaked a month before onto the internet, singer Falkous mentioned his anger at this in a series of blogs. Regardless the album received critical acclaim from reviewers, gaining 9/10 from Drowned in Sound and 8/10 from Pitchfork Media.
On 7 May 2010, Kelson Mathias announced his departure from the band via a blog on the band's MySpace profile. On the same day, in a separate blog, Andy Falkous announced that Steven Hodson (the bass player of Oceansize and Kong) would be filling-in on bass for their upcoming shows and also that the band had a "soon-to-revealed fourth member, whose main role(s) in the band are to play guitar and act like a fucking maniac." The band played summer dates around the UK and were also working on new material for a third album, playing a few new tracks at these dates. The band have also been playing mclusky songs more regularly, including "To Hell with Good Intentions", "Collagen Rock" and "Lightsabre Cocksucking Blues" from the album Mclusky Do Dallas; videos of this can be seen on Youtube. Julia Ruzicka, ex-member and co-founder of Million Dead made her live debut with the band on 17 September and confirmation of her permanent role was made via the band's Myspace blog on 21 October. On 6 November 2010 Falco announced, via the band's Twitter feed that they were in the studio recording new songs. In January 2011 in an interview with Undercover.fm he announced that the new album will be released possibly in September.
In November 2011, the band released the 6 track EP Polymers Are Forever, containing the title track and 5 songs that will not feature on the upcoming album. Falco also announced via the band's blog that the new album had been completed, was entitled The Plot Against Common Sense and comprised 15 tracks. 28 May 2012 is the album's pronounced release date, preceded by single 'Sheena is a T-Shirt Salesman' on 12 March. ••• Wikipedia
Comments