Death Grips
Live upstairs at The Bodega • 18+ event • early doors
Monday 21st May 2012
Supported by:

t.b.c.

Doors open:

at 7:00pm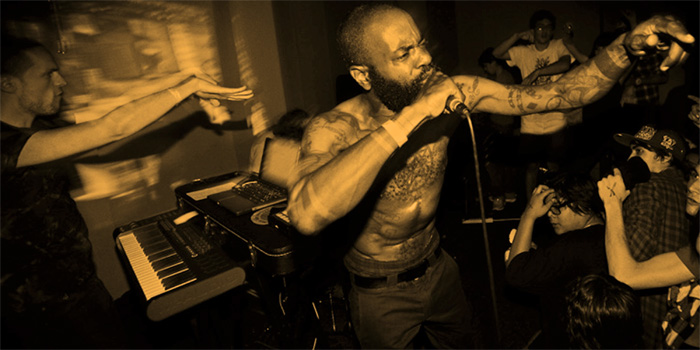 Death Grips are a hip hop group from Sacramento, California.
They play an aggressive and dark style of experimental hip hop with a harsh vocal range using irregular meter and a frequently overdriven recording quality. The band often releases content through their website Third Worlds.
The group consists of vocalist Stefan Burnett and production team Zach Hill & Andy Morin. Death Grips live performance setup consists of Stefan Burnett on vocals, Andy Morin on keyboards and Zach Hill on drums.
Death Grips initially formed on December 21, 2010. However it wasn't until March 8, 2011 that the group would reveal itself to a wider audience with the video and single Full Moon (Death Classic). A large following quickly grew as the group released more content in the form of videos and new songs over a period of weeks. On April 26, 2011, Death Grips released an album entitled Exmilitary. NBCNewYork.com called it "an intense, dark listen."
On February 27, 2012 it has been announced that Death Grips have signed with Epic Records and will release two albums this year.
The first album, The Money Store, will be released on April 24 and feature the songs "Blackjack" and "Get Got".
A video has also been released for the latter. • Wikipedia
DEATH GRIPS You Tube home page  • • • •  DEATH GRIPS Facebook Page
Comments