Dry The River
Please note: This show has been upgraded (due to high ticket demand) and moved to THE RESCUE ROOMS
Tuesday 17th April 2012
Supported by:

SHOW NOW MOVED TO THE RESCUE ROOMS due to high ticket demand

Doors open:

at 7:00pm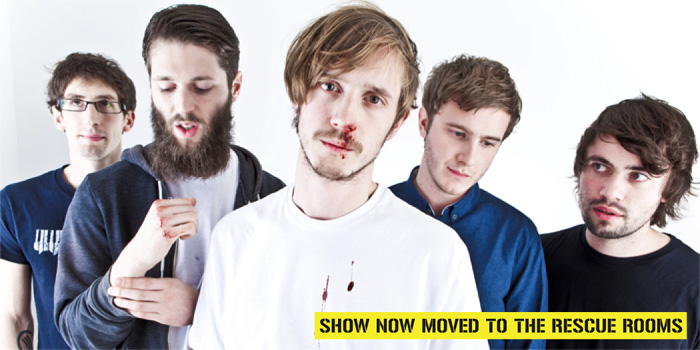 Dry the River have announced details of the release of their debut album.
'Shallow Bed' will be released through RCA Victor on March 5th 2011. The 11-track album was produced by Peter Katis (The National / Interpol) at his Connecticut home-studio during the summer of 2011.
"We were looking for someone who could strike a balance between lo-fi and hi-fi," says Peter Liddle, Dry the River's lead singer. "We wanted to record the bulk of it to tape, to use analogue stuff in favour of computer wizardry where possible, but without it sounding like an old folk record. I think we tried to preserve the fragility and honesty of the more stripped down tracks, but still get the intensity of the live show across too - to marry those two aspects of our music without it sounding incongruous."
The band have been confirmed as being one of 15 artists on the prestigious BBC Sound of 2012 shortlist. The top 5 will be announced in January 2012. For more info: http://www.bbc.co.uk/music/soundof/2012/artists/ Dry the River formed in spring 2009 and have lived together in the same shared house in Stratford east London since. Citing an esoteric list of influences - Leonard Cohen, At The Drive-In, Neil Young, Arlo Guthrie, Neutral Milk Hotel, Bruce Springsteen and Devendra Banhart – the band draw as much from their shared love of U.S. hardcore as they do from the classic songwriters they all admire. Dry The River are: Peter Liddle (vocals / guitar), Matt Taylor (guitar), Scott Miller (bass), Will Harvey (violin) & Jon Warren (drums).
Comments