Jake Martin & The Broken Bodies
14+ event • Live upstairs bar at The Bodega • Album Launch Party
Buy Tickets
Friday 8th May 2020
Supported by:

B-Sydes + Leslie George Carter

Doors open:

at 7:00pm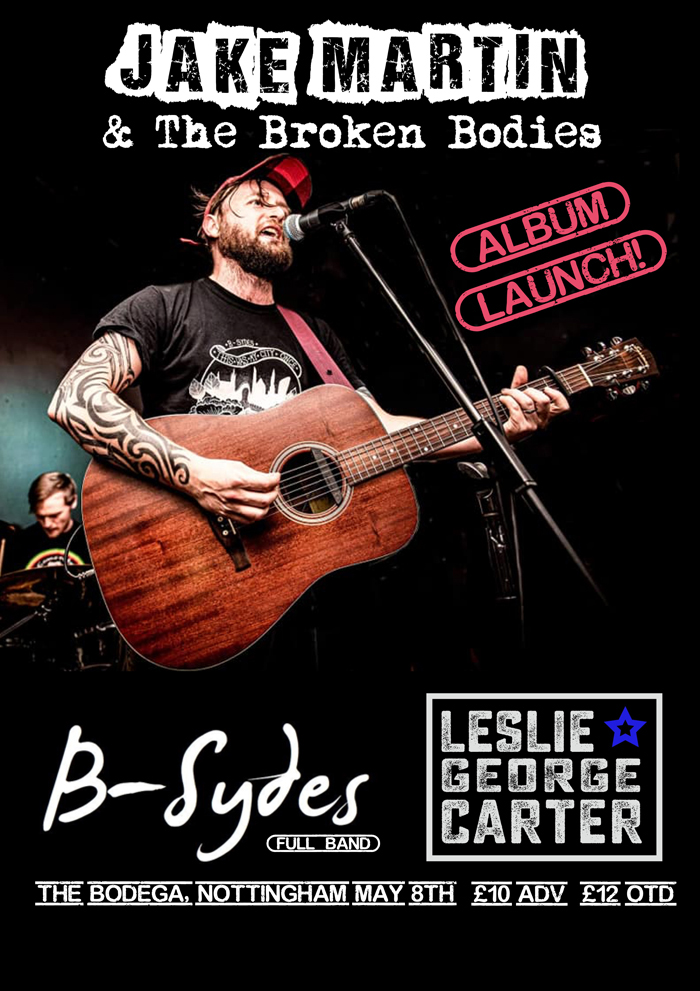 JAKE MARTIN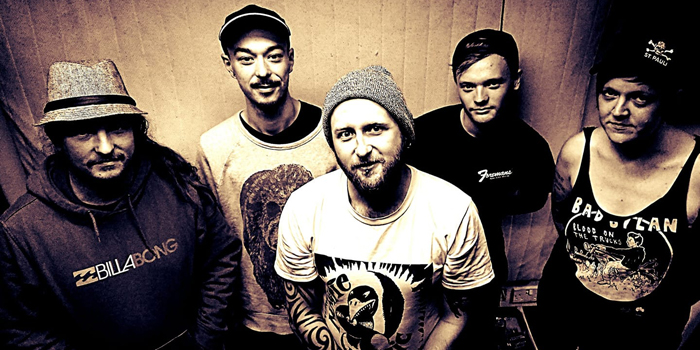 In a mere 4 years, Jake Martin has toured almost non stop propelling his music to audiences internationally, with extensive tours in Australia, the UK, America and Europe. Jake's undeniable stage presence, energy and willingness to play anywhere anytime has earned him a loyal fanbase and shows with some of the biggest names in his field. Stand out performances include shows with Justin Sullivan (New Model Army), Mark Chadwick (The Levellers) Beautiful Days Festival, Dusseldorf Acoustic Festival and Boomtown Festival and Memphis Punk Festival
Jake has also shared stages with the likes of Gaz Brookfield, Louise Distras, Sean Mcgowan, Tony Wright (Terrovision), Ducking Punches, Gary Stringer (Reef), Ferocious Dog, Crazy Arm, The Slackers and many many more!
Jake's sound is a distinctively energetic and engaging blend of brash acoustic punk, and melodic indie folk. He intelligently blends tales of life, love, and the road, with dark satire, politics, and his own cheeky brand of cider fuelled humour. Add Jake's witty ability to captivate and animate any room of strangers, his memorable sing along anthems, and the occasional bit of furniture climbing, and the result is an electrifying "every show like it's the last" performance.
After 8 years founding and fronting popular Brighton-based Skacore outfit The Junk, touring the UK and Europe several times over, and building a large loyal fan base, in 2014 Jake started writing as a solo artist. His debut EP "For F**k's Sake Jake" was released in September 2014 through Aaahh Real Records, and he began living on the road and touring solo full time.
In March 2016 his first full album "We Take Them at Dawn" was completed, and his solo career began to create momentum and the rest of 2016 saw tours spanning the UK, Europe, and Australia, where he also signed to Dead Memory Records.
2017 Saw Jake exploring, even more, touring even further into Europe than before as well as more UK tours, 20 UK festivals and an Extensive tour of America
In 2018 Jake has Released his second EP "1555 Sylablles That Mean Everything' coinciding with a headline tour across the UK as well as performing at a further 19 Festivals including headline slots both at home and in Germany.
Jake has just finished recording a split album with Gaz Brookfield and is about to embark on a 2 month Autumn tour of England and Scottland before returning home in December to begin recording Album number 2.
"What Jake brings is a message of individuality, of rage turned to contemplation, of social comment and a gentle disdain for those still star struck by scene and celebrity. But more than that these messages are grafted on to songs that are so memorable, so accessible and so great that you will be singing them on the way home from the gig long before you revel in playing the CD the next day" (Dave Franklin-Dancing about Architecture)
"Stories of life on the road and a love affair with touring, Jake Martin paints vivid a picture. If you get the chance to catch him live, don't hesitate!" (Tom Simpkins- BBC Introducing )
"It's sometimes tricky to find inventiveness and originality in solo acoustic artists these days, and whether it's in the attitude driven 'I Don't Wanna Be Your Heroes' or the self deprecating humour in the title track of his EP 'For F**k's Sake, Jake', there's something refreshing about Martin" (Ally Gale- Slate the Disco)
"His songs serve up the attitude you would expect, with titles like 'Revolution is Always Late', but they also have a self portrait quality about them which kind of marks him out as a wolf in punks clothing" (Richard Archer- Repeat fanzine)
plus...
B-SYDES (full band)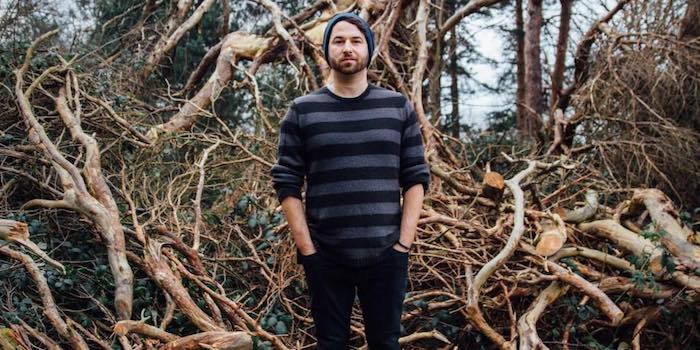 Modern folk that's as powerful as it is personal. Modern and authentic folk delivered with power, personality and purpose. B-SYDES (aka rising singer-songwriter Ben Sydes) has been capturing the hearts and minds of audiences since his first EPs and critically-acclaimed debut album 'Constant Fictions'. Having shared the stage with the likes of Frank Turner, Gaz Brookfield, Ferocious Dog, Sam Duckworth, Dave McPherson and countless more!
To catch B - Sydes performing with his full band is a rare treat! Get yourself down the front, you won't regret it!
plus...
LESLIE GEORGE CARTER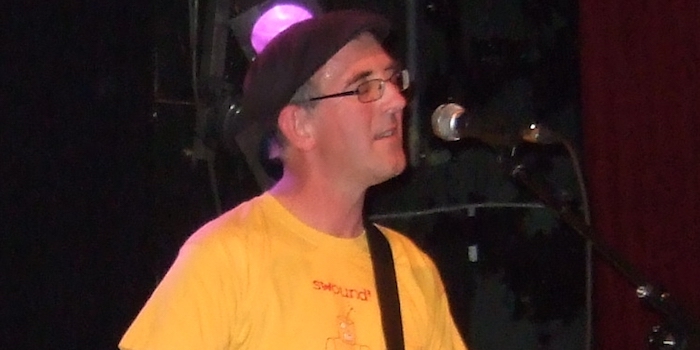 Les (Fruitbat) Carter needs no introductions! a true UK music legend Les is well known for being half of @Carter The Unstoppable Sex Machine" and more recently for his role as guitarist for Ferocious Dog!
In this instance however we have the pleasure of seeing Les performance his own songs, armed only with and acoustic guitar Les delivers a wonderful show! Thought provoking and funny, happy yet meloncholic Les's years of experience and stagecraft shine bright as he takes the audience on a journey that only a Fruitbat can!
(Leslie has NO social media links or website.)
Buy Tickets
Comments