Ferocious Dog (Acoustic)
14+ event • The Bodega upstairs bar
Saturday 15th December 2018
Supported by:

t.b.c.

Doors open:

at 7:00pm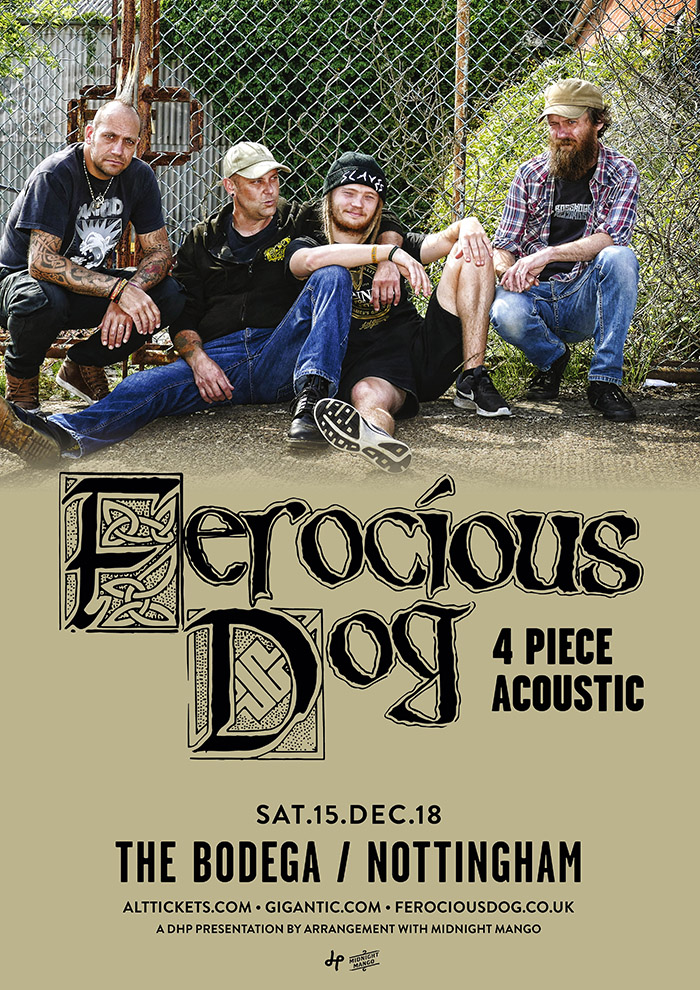 FEROCIOUS DOG
Off the back of a busy summer of festivals, sold-out shows and excursions into Europe, Ferocious Dog are hitting the road with a run of stripped back 4-piece shows. Bringing deeply personal lyrics, infused with folk, rock, reggae and Celtic vibrations to the masses, Ken Bonsall, Dan Booth, Alex Smith and John Leonard will be whipping up a musical maelstrom in a slightly more personal setting than their recent sold-out shows or main-stage festival slots have allowed. It is certainly not a show to be missed!
Ferocious Dog are the new noise on the block – and are surprising everyone with their rapid ascent. There is no way they're following any hipster templates – fronted by a big burly man with a mohican who sings impassioned political songs of broken Britain whilst his band seethes like a punky Levellers – they are the music business's worst nightmare – a great band who are going to make it without anyone's permission". (John Robb, Louder Than War, Glastonbury, 5th July 2016).
2016 was a defining year for Ferocious Dog. From playing Billy Bragg's Left Field stage at Glastonbury in front of a massive crowd, to sharing the stage with The Levellers on their sold out European and UK tour in November and December and many sold out shows in-between. Ferocious Dog left the audience under no doubt that they had witnessed a band that has the talent and passion to go on to dominate the folk/punk music scene.
"Without doubt Ferocious Dog are one of the best bands on the UK folk punk circuit as they brought Rock City to life with their stomping, energetic sound. Not only are they one of the most hardworking bands around, but as their fans will testify, they are also one of the most approachable". Nottingham Post. Kevin Cooper
Comments