Matt Corby
Live upstairs at The Bodega • 14+ event • early doors
Saturday 24th November 2012
Supported by:

t.b.c.

Doors open:

at 7:00pm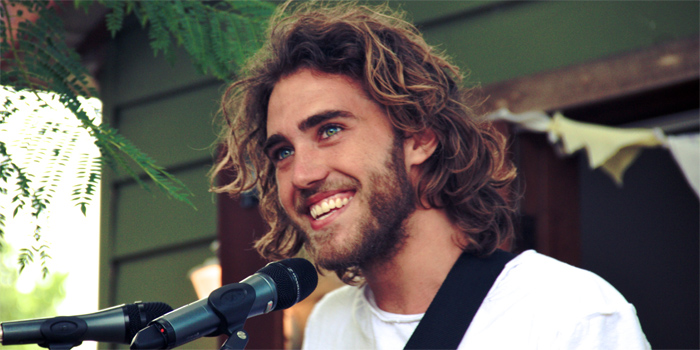 MATT CORBY  •  Website        /  /       MATT CORBY  •  FaceBook       /  /        MATT CORBY  •  Twitter
Matthew John Corby (born 7 November 1990) is an Australian singer-songwriter and musician. In November 2011 he released his fourth extended play, Into the Flame, which peaked at No. 3 on the ARIA Singles Chart and by April 2012 was certified 4× Platinum by ARIA. He was runner-up on the 2007 season of TV talent series, Australian Idol.
Matthew John Corby was born on 7 November 1990 and grew up in Sydney. In 2007 Corby began his music career at 16-years-old on reality TV talent show series, Australian Idol, where he finished as the season's runner-up to Natalie Gauci.[2] On 5 June 2009, Corby independently released his debut extended play, Song For..., on Scorpio Music. He then relocated to London and was signed with the indie label Communion by the label's owner, Ben Lovett of Mumford & Sons fame.[2] Corby has been compared to Nick Drake and Jeff Buckley. On 28 May 2010 Corby's second EP, My False, was issued by Communion. On 20 October, after recording with Ian Grimble (The Libertines, Seasick Steve) and released his third EP, Transition to Colour. From late 2010 to early 2011 Corby played numerous live shows in London and in February he performed at South by Southwest (SXSW) in Austin, Texas. He returned to Australia to play 'Secret Garden' shows in fans' backyards throughout the country. In July he supported UK band Elbow on their tour of Splendour sideshows.
Corby's track "Made of Stone" was featured on an episode of Underbelly: Razor in 2011 and on Brothers and Sisters. "Lighthome" was in an episode of Home and Away in 2011, and "Song For..." in 2012 on the same TV series. Corby recorded a cover version of INXS's "By My Side" for the band's album, Original Sin, (bonus track on the iTunes edition). He featured on a track on Julia Stone's debut solo album The Memory Machine and on UK singer-songwriter Passengers' title track "Golden Thread". After spending a few months writing, Corby spent September 2011 recording his fourth EP, Into the Flame, with producer Tim Carr (Ernest Ellis). The EP showcased a new direction for Corby, including soul-influenced growling vocals along with a bluesy melody, coupled with Corby's signature folk style. The title song has been described as "lyrically raw and endearingly honest". The EP also features a duet with keyboardist Bree Tranter, previously of Australian band The Middle East. The EP provided Corby's first entry on the ARIA Charts when it reached No. 46 on the ARIA Top 50 Singles Chart on 4 December 2011. It subsequently peaked at No. 3. Upon its release, Corby posted a message on his website and Facebook page:
After 12 months of lots of ups and downs, I'm so excited to share this EP with you. I honestly felt like giving up music back in April but all of you inspired me again. It's been an incredible few months re-connecting with all of you in gardens around Australia. Thank you from the bottom of my heart for all your support. It's been said by others before… but you guys really are the best fans ever. Let's stay close on this journey.
By June 2012, Into the Flame achieved 4× platinum certification by ARIA, making it Corby's most successful release to that time. Corby supported the release of his EP and its single "Brother" with a national Into the Flame Tour. It included a mini 'Secret Garden' Summer Tour around New South Wales. In January 2012, Corby was named the 'Next Big Thing' and won 'Song of the Year' for "Brother" at FBi Radio's annual SMAC Awards in Darlinghurst, Sydney. He premiered his rendition of The Black Keys' song, "Lonely Boy", for radio station Triple J's segment, "Like a Version", with hosts Tom and Alex, along with an acoustic rendition of his own song, "Brother". Both have since received significant attention online. Corby secured a support slot with Feist in Adelaide on her 2012 Australian tour. Early in 2012 he toured throughout the US and UK. Corby is due to write and record his debut album later in 2012. Corby's song "Brother" was voted into the No. 3 position for the Triple J Hottest 100, 2011.
MATT CORBY  •  SoundCloud             /  /            MATT CORBY  •  MySpace
Comments