Iceage
Live upstairs at The Bodega • 14+ event • early doors
Tuesday 27th November 2012
Supported by:

Kagoule + Plaids

Doors open:

at 7:00pm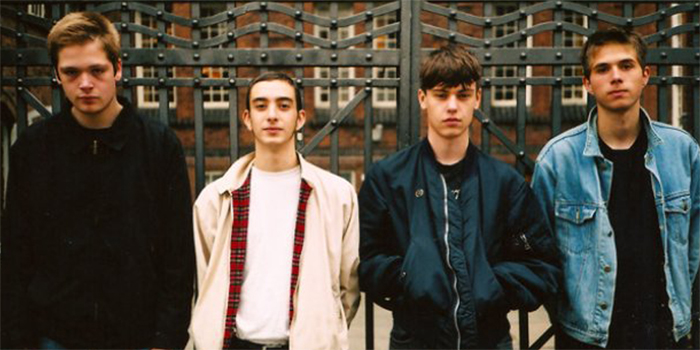 Iceage are Elias Bender Ronnenfelt and Jakob Tvilling Pless, Johan Surrballe Wieth and Dan Kjaer Nielsen.
Formed while at school in Copenhagen aged 12, they quickly became a vital part of the city's heavy music scene. It doesn't do any good to cite influences, rather, Iceage mixes punk, post-punk, Goth and hardcore as if they invented it. Now all between 18 and 19, they have created an album overflowing with youthful energy, a 12 track sprint, crammed into just 24 minutes, recorded in 4 days. It's long enough to hit you in the chest, short enough to make you wonder what happened. It's immediate, catchy and clever. Everything a debut album should be.
The band can currently be found playing shows in every corner of America, sleeping on floors, bloodying noses and getting everyone from The New Yorker to VICE magazine very, very excited. Their shows are still notoriously physical, sometimes aggressive, often destructive and always fun. You may get pushed around. Deal with it.
"while the title of 'Broken Bone' - a tightly-clenched standout from their ultra-promising full-length debut, New Brigade -- is fitting, the energy at play here is oddly connective. It feels less like a crack in the head and more like something that brings people together. Those slingshot power chords are hot to the touch, that youthquake rhythm exactly the kind of thing to send kids bouncing off walls." – David Bevan • Pitchfork (Best New Music for "Broken Bone")
"one of the best punk rock records released in years" – Noel Gardner • The Quietus
"These are some angry, brooding Danish 17-year-olds, and they made an album that I predict will be on a lot of bloggers' top-ten lists. . . Fucking Scandinavians have been doing punk better than anyone since the 60s. Side A is good, but it's the B-side of this record that delivers the mind-melters. Angry, intense, urgent: These are words I am listing that describe the record because I am a lazy writer. It makes me feel a little like I want to run around in a tiny circle pit, in my kitchen, by myself." – Princess Piss • VICE (Best Album of the Month)
"The Copenhagen quartet have been getting a bit of attention overseas in part because of their ages — they formed the band when they were all about 17, are currently 18 to 19. What's more impressive, though, is the dark, manic, explosive, and always somehow poppy, well-wrought no-wave-infused post-anarcho-punk they create. (OK, it is also impressive that four dudes Miley Cyrus's age have such a grasp on these noisy, addictive melodies and obviously know the atmosphere of the history.)" -- Brandon Stosuy • Stereogum
"The songs on New Brigade are played with the same high-octane energy that's heard on earlier albums from modern punk leaders F**ked Up and No Age, and like them, Iceage have the makings of greatness.'" – Ric Leichtung • Altered Zones


  / / /                ICEAGE • MySpace  
plus KAGOULE...
"The most exciting new band in the city, Kagoule offer the first real rush of blood to the head of the day.
Still finding their feet, they seem to be getting heavier and harder with each and every gig. When they aren't pummeling you with the creamiest riffs this side of Siamese Dream, they are lulling you in to a false sense of security with some gorgeous and tender moments, before letting rip again and pile-driving riff after riff into your head so hard that it feels like bits of my brain are falling out of my nose. By the end I'm left trying to shove what's left of my grey matter back up my nostrils.
An exceptional band who are just getting better and better"  • Paul Klotschkow of Left Lion
plus: PLAIDS
Comments