Angaleena Presley
Live upstairs at The Bodega • 14+ event
Saturday 23rd January 2016
Supported by:

David Ramirez

Doors open:

at 7:00pm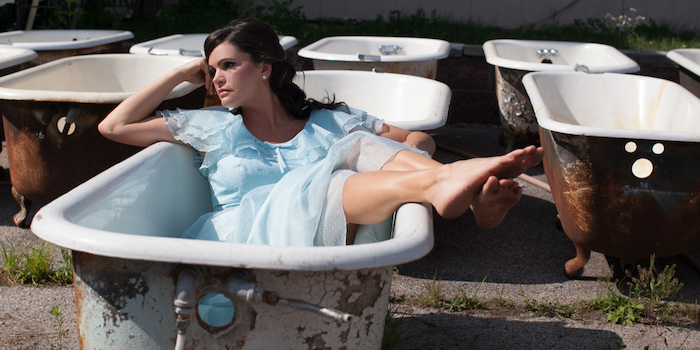 ANGALEENA PRESLEY
If there's a pedigree for a modern country music star, then Angaleena Presley fits all of the criteria: a coal miner's daughter; native of Beauty, Kentucky; a direct descendent of the original feuding McCoys; a one-time single mother; a graduate of both the school of hard knocks and college; a former cashier at both Wal-Mart and Winn-Dixie. Perhaps best of all the member of Platinum-selling Pistol Annies (with Miranda Lambert and Ashley Monroe) says she "doesn't know how to not tell the truth." That truth shines through on her much-anticipated debut album, American Middle Class, which she co-produced with Jordan Powell. Yet this is not only the kind of truth that country music has always been known for—American Middle Class takes it a step further by not only being a revealing memoir of Presley's colorful experiences but also a powerful look at contemporary rural American life. "I have lived every minute on this record. My mama ain't none too happy about me spreading my business around but I have to do it," Presley says. "It's the experience of my life from birth to now."
Yet the specificity of the album's twelve gems only makes it more universal. While zooming in on the details of her own life, Presley exposes themes to which everyone can relate. The album explores everything from a terrible economy to unexpected pregnancies to drug abuse in tightly written songs that transcend the specific and become tales of our shared experiences. "I think a good song is one where people listen to a very personal story and think 'That's my story, too,'" Presley says.
Mission accomplished.
She has created a hugely resonant album, one that is simultaneously a completely new sound and also deeply entrenched in the beloved traditions of country music, much like Presley herself. Her early life in the mountains was one that taught her to respect her heritage while being invested in the future at the same time. Her parents made sure she knew Carole King and Janis Joplin as well as Ralph Stanley, Merle Haggard, and Bill Monroe. She studied the melodies and lyrics of Indigo Girls yet sometimes skipped school so she could drive over to Loretta Lynn's home at Butcher Holler to seek inspiration.
Presley grew up in a place where the lush mountains and dignity of the people were juxtaposed against a spreading prescription pill problem and rampant unemployment. She doesn't hold back from exploring these tough issues while also managing to have a rollicking time on the record, often combining the harder subjects with a more driving and joyous delivery but without ever sacrificing the seriousness of the topics she is cutting wide open.
Before creating this solo effort Presley meticulously crafted her own sound for years. "I have paid my dues. I've been through the grind, and so many people have told me no. But I kept on making music. I had to," Presley says. "I never would compromise because I couldn't. Part of the waiting has been my own unwillingness to follow the formula but now I feel like the formula has caught up with me. Maybe I was just ahead of my time."
That particular sound is one that is equal parts tradition and originality on a concept album in the tradition of Willie Nelson's Red Headed Stranger or Springsteen's Tunnel of Love, albums that tell a succinct and powerful story through a signature sound and masterful songwriting of true artists. Presley knows how to have a big time but she is also fiercely dedicated to her music, keenly intelligent, and determined to tell her own truth.
Presley wrote five of the twelve songs by herself and her co- writers are a virtual Who's-Who of the best songwriters in the business: Mark D. Sanders, Matraca Berg, Lori McKenna, Sarah Siskind, Bob Dipero, Barry Dean, and Luke Laird. She credits her co-producer, Jordan Powell, with assembling an enviable cast of pickers on a record that allows room for the instrumentalists to shine. Among them are Keith Gattis (who's acoustic solo on "Life of the Party" offers a standout moment) and Audley Freed on guitars, mandolins, and dobros; Josh Grange on a beautifully grieving pedal steel; mandolins, and dobros; Fred Elrtingham keeps things rocking along on drums; Grammy winner Glenn Worff and Motown-influenced Aden Bubeck on bass (with both upright and electric bass adding sizzle to "Knocked Up"), David Henry on haunting cello and strings; and John Henry Trinko driving it all home with a wonderful job on organ and piano. To cap it all off, there are also amazing harmony vocals from standouts such as Patty Loveless, Chris Stapleton, Angie Primm, Keith Gattis, Kelly Archer, Sarah Siskind, Gale Mayes and Emily Saliers (Indigo Girls).
The honesty, the aching delivery, the picking, the beautifully crafted songs—they all come together to form an album that has been awaited with bated breath by fans and the industry alike and does not disappoint, announcing a bonafide country music star who doesn't just have the pedigree, she also has the magic in her to transform and move her listeners. "In this fast-paced day and age, it's so hard for us to slow down and live in the moment," Presley says. "I just hope my songs can be three minutes for a person to experience something in the moment, to connect, and to feel something, whether that be tragedy or joy or something in between. I want to tell the truth."
That truth is something that listeners know when they hear it. It's the solid truth of someone like Presley, who doesn't just talk the talk but has walked the walk and knows what she's talking about. That's real country music and with American Middle Class Angaleena Presley emerges as the clear, fierce, and joyous voice of her generation.
plus special guest...
DAVID RAMIREZ
The life of the traveling songwriter certainly seems romantic. But as David Ramirez notched mile number 260,000 traveled in his 2006 Kia Rio, the novelty began to wear off.
"I've learned a lot from being alone and isolated," says Ramirez, who until recently toured completely by himself, without a band, manager or anyone else for company. "Yes, it's romantic in a way. But it has also been kind of rough on my head and my heart. After a while it made it difficult to connect with people on a personal level when I got home. In hindsight, I can see that it's been kind of detrimental. You know, when you travel around alone for months at a time, the world revolves around you. There's no one else in the equation. Everything was just about me. It's a selfish way of living. And I'm ready to move on from that."
It's taken three years since that realization, but with his new album 'FABLES,' out August 28 via Thirty Tigers, Ramirez takes strides towards that personal growth both as a musician and as a man.
"I hit a dry spell for a couple of years after my last album. It was frustrating. I went into the studio two years ago planning to do a whole record, and it just wasn't coming together. So I scrapped the whole thing and took some time away from it," he says. "It felt forced. I don't want to just put more noise into the world. I want to put something out there that means something to me. And if it doesn't, then I don't release it. Therefore, I haven't had a new record in three years. I know that can be frustrating for people on my business team. But I don't want to put it out there if I can't stand behind it."
The delay, it turns out, was for the best. "My focus wasn't really on my music at that point," he explains. "I was at a point in my relationship with my girlfriend where things were getting serious. The closer we got, the more I realized that I needed to be honest with myself and with her about where my life was heading. If I want to be in a meaningful relationship with someone, I have to be honest in everything I do."
The album's title, 'FABLES,' was inspired by the first single, "Harder to Lie," which captures the moment Ramirez realized, as he puts it, "I couldn't bullsh*t with her anymore. She knew me completely. It got me thinking about how much I bullsh*t in my life - exaggerating stories, faking a smile, or whatever. Just telling fables. When you don't know who you really are you can end up hurting people."
That newfound maturity and clarity translated into his approach in the studio, as Ramirez traveled to Seattle to work with his friend Noah Gundersen, who produced the album. "My previous albums were a bit less personal. I always went in with a certain idea of what I wanted them to turn out like. I had never just walked in and said 'let's just see what happens.' And that's what we did this time. From the writing to the recording, it was just based on instincts."
In a world full of singer-songwriters hawking their stories, Ramirez has managed to stand out from the noise, developing a fiercely loyal following of fans who are drawn to his intimately personal songwriting. "When someone buys a record of mine, they're getting my life. They are essentially memoirs. They're going to know a little bit more about who I am."
'FABLES' is a sparse, poignant set of songs crafted around Ramirez' starkly beautiful baritone, which the New York Times once described as full of "haggard loneliness." NPR Music praised his knack for writing "dark, wrenching tales that are immediately identifiable to those who've loved and lost," while Paste described his "brutally honest" lyrics as "almost alarmingly descriptive."
After years on the road touring as an opening act for artists like Noah Gundersen, Gregory Alan Isakov, Shakey Graves and Joe Pug, Ramirez is excited to finally embark on his own tour. "Fans have been paying high-dollar tickets to watch me open for other bands, and I'm very thankful for it. I've also had the chance to see how other songwriters I respect work on a professional level. I've learned a lot and been challenged a lot. It's like I've been going to school. I've been taking notes. And now I think I'm ready for the job. I'm really excited to finally go out with a band and do my own full set. It will be more fun and energetic."
As he has learned to open himself up to other people in his personal relationships and in the studio, Ramirez has also been focused on putting together a full-time band and letting other musicians become involved in the creative process. "I'm trying to build a family of people who create together, not just a backing band," he says. "For the past five years traveling, I get off stage and I have no one to share it with. I've been lucky enough to ride along with some of the bands I've opened for. I watch them get ready for their set and have that sense of collaboration, and I'll just be in the alley smoking a cigarette by myself. I've always had a little envy for that. I'm like every kid that grew up playing in a garage. I want a band. No one has dreams of playing the world alone."






Comments