The Coronas
Live upstairs at The Bodega • 14+ event • early doors
Friday 23rd November 2012
Supported by:

The Lounge Crusade + Josh Kemp

Doors open:

at 7:00pm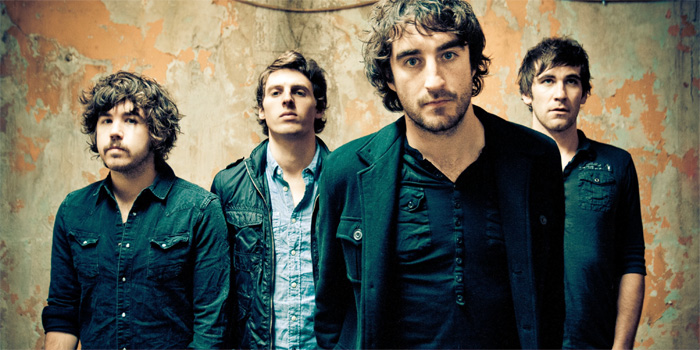 THE CORONAS •• Website     ///     THE CORONAS ••  FaceBook     ///     THE CORONAS  ••  Twitter
The Coronas are an Irish rock and indie band. They have released three studio albums, Heroes or Ghosts (2007), Tony Was an Ex-Con (2009) and Closer to You (2011). The first album brought them widespread popular acclaim with songs such as, Heroes or Ghosts and San Diego Song. Tony Was an Ex-Con received Best Irish Album at the 2010 Meteor Awards, beating Snow Patrol's Up To Now and U2's How to Dismantle an Atomic Bomb among others.
Two of the members of The Coronas, Danny O'Reilly and Graham Knox, were born two weeks apart, in Dublin. Their families were friends, and in turn Danny and Graham built a firm friendship as well. Both came from particularly musical backgrounds; Danny's mother is the renowned Irish folk vocalist Mary Black.
In 1997, while attending Terenure College secondary school in Dublin, Danny and Graham were introduced to Conor Egan; it was here as well that the three made friends with Jim Lawless, who would later become their manager. Identifying a mutual love for music, Danny, Graham, and Conor, then only 15 years old, formed a band called Kiros along with another friend. However, this band did not work out and soon split. But in 2003, upon leaving school, Danny, Graham, and Conor reformed under a new name, Corona, taking Jim Lawless on as their manager. "Corona" came from the Smith Corona typewriter used by the protagonist in the film Almost Famous.
Danny went on to attend University College Dublin to study Commerce and Irish, while Graham and Conor both studied sound engineering. Meanwhile, practicing in a disused factory and gigging around small venues in their free time, Corona began to gather a small following. The band soon entered and won a competition for Irish up-and-coming bands, called the Jack Daniel's "JD Set."
In 2005, Corona recorded a self-titled EP, their first recordings of original songs, in a small house in county Wicklow, Ireland. The EP proved to be popular, especially among college students in Dublin. It was around this time that the band also changed its name to The Coronas, largely because the pre-existing Italian dance act, also called Corona, re-emerged.
In 2006, they met guitarist Dave McPhillips while on a holiday in Vancouver; shortly thereafter, asked him to join the band as lead guitarist. Dave was a fellow Dubliner, hailing from Monkstown, and had attended Gonzaga College. Dave later studied at University College Dublin. In September 2006, The Coronas sold out a show at Whelans, one of Dublin's most prestigious venues for new music. Following this gig they were signed to the independent label 3ú Records, in November, and soon began to record what would become their debut full-length album, Heroes or Ghosts, which was released in October 2007.
A second LP, Tony Was An Ex-Con, followed in September 2009. They were nominated for four Meteor Awards, winning Best Irish Album in 2010 for Tony Was An Ex-Con.
The band's third album, Closer to You, was released in Ireland on 11 November 2011. The Coronas recorded the album in LA with producer Tony Hoffer who has worked with Air, Beck, The Kooks, Belle and Sebastian and many more. Their first single from the album, Addicted To Progress, was a big hit on Irish airwaves and the single was in the Top 5 Irish Airplay Chart for more than 13 weeks. The song was also nominated for the 2012 Meteor Choice Music Prize.
The band's second single from the album, Mark My Words, was released on 10 February 2012.
• • • Wikipedia
THE CORONAS •• Website     ///     THE CORONAS ••  FaceBook     ///     THE CORONAS  ••  Twitter




plus special guests: THE LOUNGE CRUSADE
From the bands FaceBook page...
"We're Nathan, Joel, Stephen, Jason and Nick, five lads from Lincoln, England. We're five friends with a die-hard passion for making music. Expressing ourselves in the only way we know how. We've done things we're proud of, laughed, cried, drunk too much and woken up in hospital. Our experiences shape our music and our songs are heartfelt. We craft our songs in a small Lounge with a small PA, If you love life, diversity, passion and a late night sing a long in a local pub with good friends, real ale and an open fire then you've already met The Lounge Crusade. In the 2 years we've been together, we've had the time of our lives. Our music has already seen us play some of the UK's top music venues including headline spots at Liverpool's Cavern and London's Monto Water Rats. We've supported the likes of Tynchy Stryder, Juan Zelada, The 22-20s and Chris Helme (Seahorses), playing gigs in mainland Europe as well as the UK. Our debut EP was recorded at the legendary Chapel Studios with producer Jim Spencer (Oasis, Charlatans, New Order).
For us it's not about ticking boxes on a musical to-do list, it's about living the moment and connecting with the people who make the effort to come and share the night with us.
In the short time we've been together, the feedback from the growing number of people who get what we do has been amazing. If you want other people's opinions of our music, google us and you'll find them. Reviews are great and if you want to read poignantly written musical critiques and biographies then there are many about. But If you want to know where we've been, who we are and where we're going, put our music on your musical playing device, close your eyes, sit back and let us take you there.
There's nothing better than chasing your dream, so a BIG thank you to all of you who have supported us and continue to do so."
plus: JOSH KEMP
"A Notts star on the rise....his uplifting tracks filled with catchy melodies and truthful lyrics are sure to blow you away. Top this off with silky sweet vocals and there you have it, Josh Kemps recipe for gig success!" - Maddie Hammond and Ashleigh Bossman, TOP 3 GIGS – Week Beginning 20th August. (Aug 19, 2012)
"Here is a young talent to be savoured" - Phil Ball, Concert Review
"Versatile performer. Keep doing what you do - it gives you an edge.... Excellent voice. Really liked the original track" - Chris Grayston, Future Music, Performance Review
"Josh is a natural performer" - William David, Freelance Photographer
Comments