Runaway Husbands
Live upstairs at The Bodega • 18+ event • Please note: F R E E event ! ! !
Sunday 2nd September 2012
Supported by:

Sleaford Mods + Death To The Traitors + Bustop Madonnas ...& DJ's

Doors open:

at 7:00pm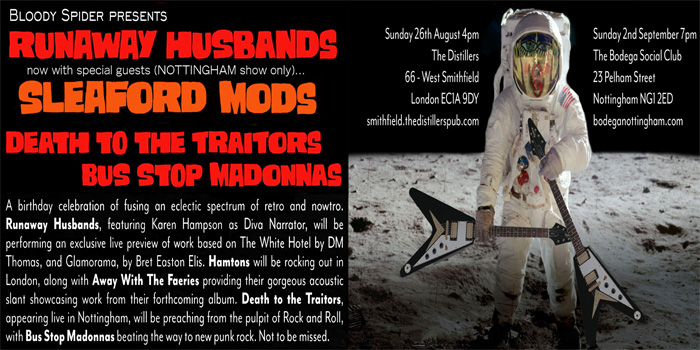 Aidy Smith • Birthday celebrations....
RUNAWAY HUSBANDS (with Karen Hampson as diva narrator).
Performing an exclusive live preview of work prepared for a forthcoming TV project featuring prose and poetry from "The White Hotel" by D M Thomas and "Glamorama" by Bret Easton Ellis. - Not to be missed.
plus guests:
SLEAFORD MODS  •  Website/BandCamp             / / /             SLEAFORD MODS  •  FaceBook
SLEAFORD MODS  •  SoundCloud                     / / /                   SLEAFORD MODS  •  Twitter
DEATH TO THE TRAITORS
BUSTOP MADONNAS
Comments