Submotion Orchestra
part of SOUNDDHISM #20 • The Bodega Nottingham 18+ event
Saturday 2nd June 2012
Supported by:

Maribou State + Natalie Duncan + Noke Lick Masheen and lts more...

Doors open:

at 9:00pm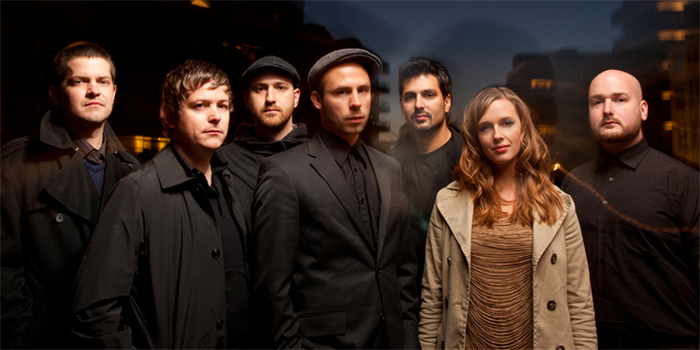 • • •  SUBMOTION ORCHESTRA (website)
• • • SUBMOTION ORCHESTRA (facebook)
• • • SUBMOTION ORCHESTRA (SoundCloud)
Submotion Orchestra are simply one of the best live music experiences you're ever likely to encounter; sublime, sexy, bass driven grooves laden with soul, creating a distinct and impeccably executed sound.
The combination of Ruby Wood's stunning vocals and the exceptional level of musicianship throughout this seven piece band make Submotion a stand out act who have gained huge love and respect over the last few years.
Returning to the night that first introduced them to Nottingham for an intimate show, this band could easily sell the Bodega out off their own back so don't wait up on this...
plus...  NATALIE DUNCAN (website)  • •  NATALIE DUNCAN (facebook)  • •  NATALIE DUNCAN (video on You Tube)
Reigning queen of Nottingham's full-to-bursting bag of female vocal talent, Natalie is a lady who immediately gets a crowd under her thumb and keeps them there till she's finished with them. Devastating range, unparalleled style and the ability to throw every ounce of her heart and soul into her performances make her one of the most captivating artists around today. Now signed to Universal with an album forthcoming after appearing on BBC's "Goldie's Band" and with international recognition in her sights, you'd be crazy to miss this. Pre-drinkers beware.
plus...  MARIBOU STATE (facebook)  ••  MARIBOU STATE (SoundCloud)  ••  MARIBOU STATE (video on You Tube)
Fast becoming one of the hottest names in UK electronic music, Maribou State have further laid foundations for a very bright future since having made their Nottingham debut at Sounddhism back in December. With a busy summer ahead, including a June release of their second EP on Southern Fried (Norman Jay AKA Fatboy Slim's label) and appearances at Secret Garden, Glade and a host of other festivals, it looks like these guys have a lot left to give.
plus...  NOKE LICK MASHEEN (facebook) • NOKE LICK MASHEEN (SoundCloud) • NOKE LICK MASHEEN (video)
Bafflingly short on national recognition for such an effortlessly brilliant band, the Noke Lick Masheen rolls back to Sounddhism with heads held high - last time they played for us they took over the headline spot from a snowbound Dr Syntax & The Mouse Outfit. They left more than a few mouths stuck in the gobsmacked position and ever since we've been inundated with requests to bring them back! Properly ace, check them out.
Plus all the usual resident DJ's... OMAH   •   SIBLEY   •   HEMULAN SOUNDSZ
Comments