Blog
6th February, 2020
Honing their craft at packed headline shows and festival bills across the country, APRE are one of the UK's most talked about bands for 2020, creating an infectious blend of intelligent pop, glistening synths and soulful guitars. We caught up with them as they prepare to hit the road in Feb, which will feature a stop in Notts on the 23rd...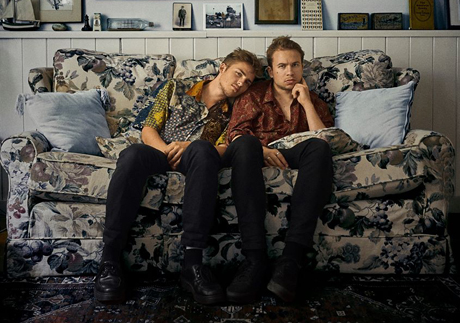 Hello APRE! Could you start off by setting the scene for us, where are you right now and what are you up to today?
Hi!! Today we are in rehearsals in Shepherd's Bush for our upcoming tour that kicks off next week. We are all currently scoffing a Tesco meal deal, the staple of any touring musician.
You're gearing up to head out on your biggest headline tour to date, how excited are you to get out there?
We have never been more excited for a tour! We have done support tours for the likes of Sam Fender and Half Alive basically all of last year so it will make a nice change to play to our own audiences.
2019 was a massive year for you guys, with some highlights including Glastonbury, support tours with Friendly Fires and Inhaler and even getting featured on the playlist of FIFA 20. How was that year looking back now?
It was intense! When you put it like that it makes me realise how much we actually achieved, but at the time it just felt like we were on the road for eternity!
Speaking of FIFA, who'd win the great 2020 APRE tour bus FIFA tournament?
To be honest, our tour manager Neil is the only one heavily into his football. Though Charlie can bluff his way through half the Chelsea squad on a good day.
You've described your sound as "alternative wonky indie electronic pop", how do your songs usually form? Is it a collaborate process or is it a case of one bringing an idea to the table?
Mostly it starts together, with either a riff or a sample that inspires both of us, like the choir sample in 'Everybody Loves You'. Then we will each just build on top of it until we are vibing something, then finally Charlie will take to the microphone. We are incredibly impatient though when it comes to songwriting, so if it takes any more than a few hours, we will probably forget about it.
And finally, have you got any wild pre-show rituals we should be preparing ourselves for?
To be honest, 5 minutes before stage you will probably find us all screaming 'Cuddly Toy' by Roachford at the top of our voices while steaming our clothes haha. Sad, I know.
Cheers lads, looking forward to seeing you in a couple of weeks!
Can't wait!
APRE will be at The Bodega on 23rd February, with special guests Weird Milk and Polly Money. Tickets are on sale here.
Comments