Blog
16th December, 2019
A tour de force on the live circuit, London punk duo JOHN create the best kind of awesome, loud and thrashing punk. 2019 saw them release their blistering second album 'Out Here on The Fringes' and soon they'll bring their immense riffs and introspective lyrics to The Bodega on 30th January. We had a chat with them below on the album, the upcoming tour and any wild pre-show routines.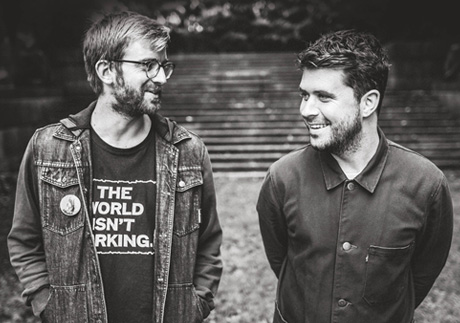 John and John, welcome! What can we expect from a headline JOHN show?
Hello there Bodega, we're very much looking forward to visiting. You can expect four arms, four legs, wood, metal and plastic… and probably a fair bit of sweat too.
You've recently released your second album, how was the recording of that? Any "difficult second album" syndrome?
After a humbling response to our debut, it was great to know more about the process this time round - especially returning to the same studio and producer (Wayne Adams/Bear Bites Horse Studio, East London). We actually recorded in three interspersed sessions because of touring commitments. In that sense, it gave us time to develop a well-rounded group of songs whilst not over-labouring them.
Out Here on The Fringes was recently picked by BBC 6 Music as their Album of the Day, how has the reaction been to the record and is it how you expected it to be received?
It's been a very humbling response on the whole. Seeing the album make the UK Vinyl Chart off the back of our own label/distribution showed us that it is possible to make a dent even on modest terms; I can't say I expected that would be possible. The extended radio support was also very surprising. I'm still trying to get my head around Iggy Pop's voice saying some words that I wrote down on my iPhone notes.
Last year you headed out on tour with IDLES, how was it on the road with those guys? They played here on the Brutalism Tour and it was a memorable one!
We've had the pleasure of calling the IDLES chaps friends for a long time now, and also supported on a couple of the Brutalism Tour dates too. 2018's tour was a phenomenal journey spanning 27 shows in 13 different countries. It was a truly unique experience, and it was fantastic to play numerous historic European venues that we may not have visited otherwise.
Have you got any previous experiences of a Nottingham crowd?
It's been a long time ago now, but we played a great DIY show at JT Soar in Nottingham years ago. I'm sure many locals may be familiar with the place, but it's an old fruit and veg store that has been converted in studios and rehearsal spaces. We're very excited to be back in Nottingham, especially on the hallowed ground of The Bodega.
Any wild pre-show rituals we should be preparing ourselves (and the venue) for?
I suppose Manuka Honey is partially 'wild', so a cup of tea and plenty of stretches will do me fine. Johnny likes a couple of beers but only an amount that enables him to remember where his hands are.
And finally, we're coming to the end of 2019, what tunes have you been enjoying this year?
2019 has been a great year for music with friends such as USA Nails, Drahla and Dry Cleaning all releasing music. Nick Cave's 'Ghosteen' was also a wonderful surprise, let's hope that 2020 continues in the same vein.
JOHN will be at The Bodega on 30th January with tickets on sale here.
Comments