Blog
9th December, 2019
Creating refreshing indie-pop anthems, Notts boys Fading Blonde are set to bring their stadium-ready hooks for their biggest headline show to date on Friday 13th December. Their 'Missing Everything' EP showcases why they're one of the city's brightest new artists so we caught up with them ahead of their Bodega show this month.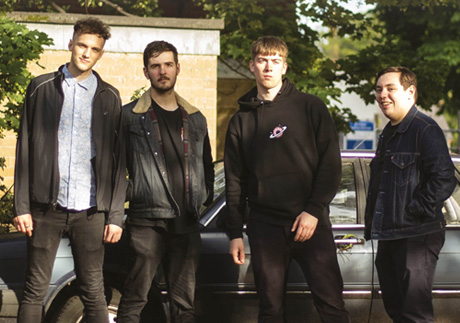 Hey lads! Your biggest headline show is fast approaching, how excited are you for it?
Hey! We honestly can't wait. Not even a little bit! It feels like everything so far has been leading up to this. We're so grateful to everyone who has bought a ticket. Friday can't come soon enough…
Take us back to the beginning, how did the four of you get together and start making music?
So Evan (vocals/guitar) had just wrapped up with another band and was looking to start something new. Harvey, having seen Evan's old band play, reached out and the two of them started making noise together. Harvey quickly recruited his handsome guitarist friend Owen, who happened to have a handsome bassist friend called Charlie. Owen invited Charlie along and we all hit it off straight away. Sometimes it can be tough when you meet through music and don't know each other beforehand, but we became really close in no time at all. I guess it works because we're all determined to make something of this. We wouldn't be in a band together if we didn't all believe we could do Fading Blonde full time (eventually)!
How does the songwriting process take place? Is it fairly collaborative between all four of you?
Evan usually writes the song on an acoustic guitar and sends over a rough demo ahead of our next rehearsal. We'll get in a room flesh it out together until it feels like a Fading Blonde song. It's not always fully lyrically written at this point. Usually Evan's got the lyrics for the first verse and a chorus, and the lyrics for the second verse come as the song develops. Sometimes things are more spontaneous in the practise room, our song 'Flashing Lights' for example, was super organic. We started the rehearsal with a riff and finished it with a song. It's great when that happens, because the song really shows off everyone's creativity and influences.
You've got a massive indie-pop sound built for festival stages, what's the goal for the next 12 months of the band?
Thank you! 2020 is set to be a really massive year for us. We're kicking things off at Beat The Streets in January, which is shaping up to be an incredible festival. We'd love to play some more festival stages over summer, as well as play more shows in different cities. We'll be back in the studio in January and will be releasing new music throughout the year. We've also got some very exciting show announcements coming up in the new year, so keep your eyes peeled. We just want to keep writing songs and playing them to as many people as we possibly can. The show on Friday feels like the start of the next chapter for us.
You've been playing all over the city at pretty much all the venues on offer, how great is it to be a part of the Notts music scene?
We LOVE the Notts music scene! Everyone is so so supportive of one another and we've made so many amazing friends from playing music in Nottingham. Notts musicians religiously go to each other's shows and we wouldn't change it for the world. You can always catch us in the audience at local shows. This weekend we saw George Gadd, Velvet Blush, Marty and Kelsey and The Embers in the space of 2 days. That's a proper local music scene!
Any pre-show rituals we should be preparing for? The weirder the better (as long as it can fit in our tiny dressing room, no hot tubs in there unfortunately…)
We like lots of cuddles before any show to help manage the nerves/excitement. You can often find us clinging onto one another watching the other bands. Then just before we go on, we huddle up and chant 'smash, smash, smash, smash' over and over, usually embarrassingly loud, until we feel pumped enough to go and smash it. We did that before one of our first ever shows and it's become a very necessary part of the process.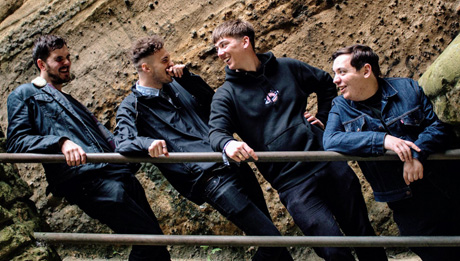 And finally, what can we look forward to from your headline show?
Friday is going to be a massive celebration. We'll be bringing every ounce of energy we've got and leaving it all out on that Bodega stage. We'll be playing tunes from our EP 'Missing Everything' as well as our brand new single '25' (which is out on 10th December). We're even playing a new tune for the very first time which we're really excited about; it's a very different vibe for us. Don't forget to get down for doors to catch performances from two of the best live bands in Nottingham, Good Hustles and Left Hand Lane. We're so excited to have those guys on board. It's going to be an amazing show, we can't wait to get up there and have a dance with you all. Let's make some noise!
Fading Blonde will be at The Bodega on 14th December with guests Left Hand Lane and Good Hustles. Tickets are on sale now here.
Comments