Blog
22nd November, 2019
Blending her Bristol roots with a slice of Nashville, blues-Americana sensation Elles Bailey released her highly acclaimed sophomore album 'The Road I Call Home' earlier this year. Since then, she's been touring all over the continent, wowing audiences as she goes. Now back in the UK, Elles is out on her UK tour and will feature a stop at The Bodega on 5th December. We had a chat with her about life on the road and her 'Blacktop Companion' release.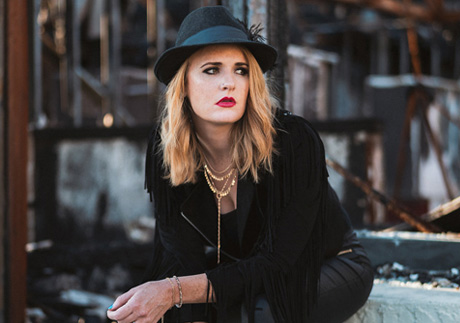 Hey Elles! Can't wait to have you in Nottingham, how excited are you to get on the UK leg of your aptly titled 'Road I Call Home' Tour?
This whole year has been such a blast and I've toured all over Europe and into the USA, but I am so happy to be finally back on home soil and touring the UK. The shows have gone so well already, and I am loving it.
Your soulful sound is so unique, who were your inspirations growing up and how did music become a part of your life?
I don't remember music not being a part of my life really, my dad listened to Blues and Country music like The Band, Muddy Waters, Howlin Wolf and The Eagles, whilst my mum listened to gospel music. But growing up wasn't all about my parents music, I was a product of the 90s so maybe the uniqueness comes because I used to love the Spice Girls too… or maybe not LOL.
Many of your songs are so beautifully personal, do you find it hard sharing them with the world?
I used to, and sometimes it's really hard on stage to perform some songs. Even in Sheffield last week I cried on stage but as a singer/songwriter it's what we do. It's part of the territory and I am just really glad that my music resonates with people, because in the end that's what you want as a songwriter. You want others to feel it too.
The reaction to 'Road I Call Home' was incredible but with these extra deluxe songs on 'Blacktop Companion', did you feel like you had more to share from this era?
100%. Blacktop Companion tells more of the story and in fact features three fully produced songs from the 'Road I Call Home' Recording session that didn't make the original record, and a cover of Levon Helms 'When I Go Away' which we have been playing on this album tour.
We hear you played 6 different countries in one month recently, that must've been a great experience, right?
Did I? Wow that's cool – I didn't even realise – which seems mad right? I see the world through a van window but am very grateful that I get to travel to so many cool places. We spent 12 hours in Sandane in Norway in the Fjords and it totally blew my mind. I decided not to sleep and go star watching at 4am – that was super special!
And finally, what should we look forward to with your upcoming Notts show?
Firstly, my band are on fire so I am so excited to bring this show to Nottingham. I have only ever played as a trio there, so I am excited to introduce the band to The Bodega. What else should you look forward too? Just the show in general – I am excited to share some old favourites from Wildfire that we have resurrected just for this tour but also play a few tracks from Blacktop Companion as well as most of the Road I Call Home record. It's gonna be a lot of fun!
Elles Bailey will play The Bodega on 5th December, with special guests True Strays. Tickets are on sale here.
Comments