Blog
1st October, 2018
If you've been playing FIFA recently, you may have found yourself humming one of the catchiest tunes from the soundtrack called "Everytime I Run". The band behind the track, Husky Loops. Creating a unique blend of hip-hop, funk and rock, the hotly-anticipated trio are currently out on the road ahead of their new EP. We spoke to Danio (vocals and guitar) before they stop at The Bodega on 25th October - TICKETS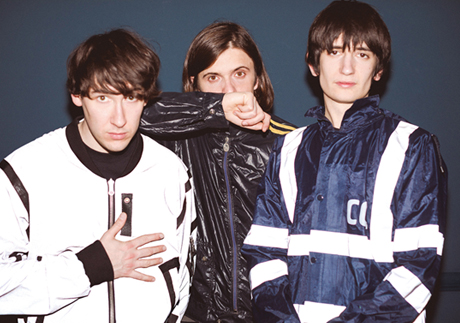 Hey Husky Loops! Looking forward to having you here but for those who haven't heard you before, what can they expect?
Lots of new songs and mainly new jokes. And for those who haven't heard us, our show sounds like a machine demon crawling through the gold soil of love, with very angry tunes and very lovely melodies.
Your single 'Daft' is a grungey, bass-ey pool of goodness (think we nailed that), where did the inspiration for your signature sound come from?
Not from grunge or rock at all, mainly hip hop and 70's funk. This is why we decided to record it with Malcolm Catto (The Heliocentrics). We kinda wanted it to sound like Madlib. I think the song really has that weird samply lo-fi texture, but it's all recorded live actually. Big shout out to Malcolm, his studio is gold
You're recently wrapped up a busy festival season, how was it for you guys?
Incredible, mainly abroad, in Amsterdam we headlined London Calling at Paradiso and in Prague we played before David Byrne at Metronome and at both festivals the crowd were awesome. So many people... insane. These two were the highlights so far. We're still surprised when so many fans or curious folks show up for us, because in some cities in the UK we still play in front of 30 people.
You've toured around the UK quite a bit, where do you get most excited to play?
Everywhere, no preference at all. Every town has a different vibe, every cities different kind of fans! Bodega is really good tho!
What would you say has been the highlight of your career so far?
There were many moments I still can't believe happened... touring with big acts like Kills, Spoon and Placebo was amazing, playing before David Byrne was amazing, jamming with Brian Eno was amazing, collaborating with Sergei Polunin and Rankin was amazing... all of this seems insane to me if I think I am from Bologna Italy, but I don't want to see or perceive a highlight you know, I want to keep going and so much more needs to happen. They were just amazing moments.
And finally, you've got a day off from tour, what's the first thing each of you do when you get back home?
I don't know about the boys, I go downstairs in the French Cafè and have a baguette.
Husky Loops will be at The Bodega on Thursday 25th October - TICKETS
Comments