Blog
25th July, 2018
The past few years have brought us bands like Nothing But Thieves, Catfish & The Bottlemen and Circa Waves. Give it a few years and a band called Airways will slot nicely on the end of that list too. The quartet from Peterborough via Chicago are already on their way to creating groove-rock masterpieces and with extensive tours over the EU and US, their live show is a force to be reckoned with also. We caught up with the band ahead of their upcoming Bodega show in October!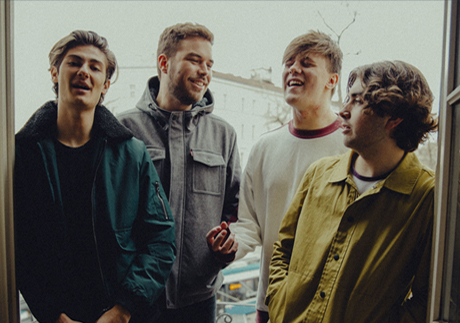 Airways! So excited for the October shows but for those who aren't so familiar with you, sum up what they can expect…
4 sweaty guys pouring their hearts out on stage.
Tell us about the origins of Airways, where did you meet and how did you start making tunes?
We met in America, Jake met Brian in Los Angeles CA while he was out there writing some music. Two months later, Brian showed up on Jake's doorstep in Peterborough and the conception of Airways went ahead that same day.
Your sound has been described as a "young, refreshing and exciting indie rock band", where did the inspiration for your sound come from?
We're a band of four, young boys who like to make music. There's nothing about us that is manufactured or fake and I feel like that shines through. We don't take ourselves too seriously and we focus on writing good songs and putting on a good live show. We want to make sure anybody who sees us live, leaves that show and tells all their friends about it.
You've been touring with Nothing But Thieves across the EU and US, how was it being on the road with them?
They're good ol' boys. America was an experience for us as it is such a behemoth compared to England. The drives are longer, the serving sizes are bigger and the drinks are stronger. We did most of the tour sleeping on the floors and sofas of whoever would take us. Luckily, Brian had enough friends around the country to make sure we were looked after wherever we stayed. The Nothing But Thieves band and crew really looked out for us whenever we were on tour with them which we are really appreciative about.
October will see your biggest headline shows to date, how does your approach to those differ to supports and festival slots?
It's an opportunity for us to put on our own show and make it a spectacle. Typically, we will only get to play 30-minute sets at festivals or as a support band, which is almost just an "introduction to Airways". When we put on our show, we essentially get to do whatever we want. We have plenty of material sitting on the back burners that we can't fit into a 30-minute set and headline shows give us the opportunity to put that music out into the world in a live format. I think when you see a band live as opposed to just listening to studio recordings, you understand what that band is trying to do more so than any other format of listening to them.
And finally, you've got a day off from tour, what's the first thing each of you do when you get back home?
Home Cooked Sunday Roast.
Check out Reckless Tongue here
Airways will be at The Bodega, Nottingham on 1st October - TICKETS

Comments