Blog
10th July, 2018
With ferocious energy on-stage and riffs for days, mighty Welsh rockers Estrons​ are set to take the rest of 2018 by storm. With shows coming up supporting the legendary Garbage as well as festivals and headline shows of their own, we had a chat with Tali from the band about their upcoming Notts show and what the future holds for Estrons…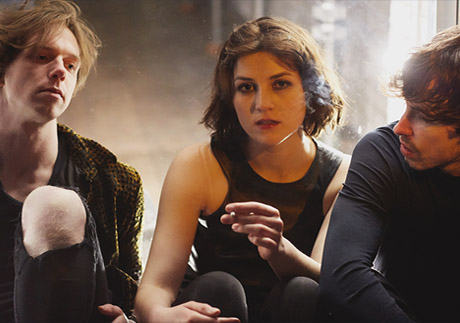 Hey Estrons! Can't wait for you to unleash your energy in Notts but for those who are yet to see you, what can they expect from your live show?
A lot of energy, possibly some equipment breaking due to mosh pit enthusiasts, but we've also introduced some slower paced songs into the set. We've been developing our sound a lot since the last tour and some of the tracks have become more emotionally driven and personal so the live set should take you on quite the journey - it's a bit of a roller coaster for us and I think that resonates to the crowd.
You've just released Lilac into the world which on the surface is a ferocious stormer of a track but lyrically it means a lot to you, how has the reaction been?
It's been quite touching actually. We've been working hard on the project behind the scenes for the last few months so it's been great to finally show the world what we've been doing. Our fans have been genuinely excited that we're back and Lilac has been getting a really positive reaction from everyone. It's a nice allusion for what we've got to share next.
We hear you've been in the studio recently, how is new material shaping up? Will we hear any more before the tour?
Like I've mentioned - we've been working incredibly hard! We've got much much more to share and it will be a bit more eclectic than what we've released so far. Stay tuned…
You look like you're pretty constantly on the road, is touring your favourite part of the job?
Touring is long hours on the road and many service stations and a lot of logistical nightmares so it certainly has its downsides, but being on stage is something we all really enjoy doing. Only then can people truly see hear and feel you for what you are. My favourite part is going back to see the faces we saw when we first visited these places and making new friends. We've met so many incredible people.
Festival season is well underway, how does your approach change to headline shows, festival slots or support gigs with Garbage?
Festivals are a great way of making new fans and they certainly have a more laid-back feeling about them. We can't put on a light show as such or put on our playlist to set the room, but seeming as they tend to be a standalone show rather than a string of them like you'd do on tour, you get less afraid of damaging yourself so you can get away with a lot more physically. We've all hurt ourselves pretty bad doing stupid stuff…
You've got a day off from tour, what's the first thing each of you do when you're back home?
Touring is a weird vortex away from reality. You're surrounded by new places and faces and you eat sandwiches and sleep in complicated arrangements so the first thing we do is usually sleep. It's nice to arrange a pint with a friend in your local just to get that sense of normality back... but I'm usually itching to get back out there once that normality hit is over. We miss the M5!
And finally, if you could just play one song on one stage for the rest of your lives, what would you play and where?
I've been listening to Paraguay by Iggy Pop on repeat for about 4 weeks now. I would love to cover it if I could pull it off. The idea of pulling up your roots and leaving civilisation is certainly a dream we've all had at times. I guess we could move to Paraguay and sing that forever if things get too tough. Sounds ideal(istic).
Estrons will be at The Bodega on 9th November – TICKETS

Comments