Blog
5th June, 2018
London-based quartet Sea Girls may still be pretty early on into their career as a band, but they seem to have already perfected their arena-ready indie-pop sound. They've just kicked off their festival season with sets at BBC Radio 1's Biggest Weekend and All Points East with Catfish & the Bottlemen and we suspect in years to come they'll be headlining festivals of their own. With a new EP 'Adored' out today, we caught up with the band ahead of their Bodega show in October - TICKETS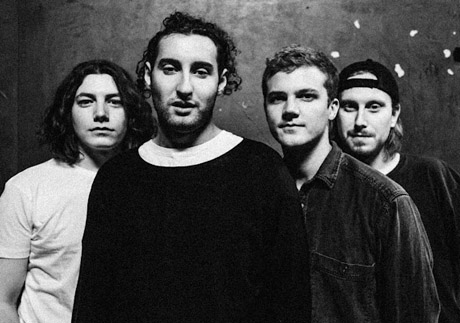 Hey Sea Girls! Can't wait to have you here but for those who are yet to hear you, what can they expect?
Well we're going to try and take you by surprise. Our goal with every gig is to turn what you think is a casual night of music to 'The Night I Saw Sea Girls'. Of course, a good gig is when there's a connection between the band and the audience, but we're pretty sure this is a given with a Nottingham audience *winky face*.
2018 has already been a big year of releases and gigs for you, what can we expect for the rest of the year?
You'll see us bouncing around the country, from Somerset to Inverness we'll be playing festivals. In between that we'll be squeezing in some writing and recording for the next batch of (hopefully) 'banging' tracks. Although the end goal of the year is to gear up to our debut album. With guidance from our amazing producer Larry Hibbitt, it's sure to be a smorgasbord of bangers.

You've just kickstarted your festival season with loads more incoming such as Reading & Leeds, how excited are you to hit the festival circuit?
It's all a bit surreal to be honest, getting out there and playing is exactly what we're in it for. We're just 4 mates who love music, and now what we want is to meet the people that have helped us to live it.
You seem to have found the formula to creating huge indie anthems, where does the inspiration for your sound come from?
We don't take anything for granted, we think that's the first step, you've got to work for it by writing and practising. But there's also a fair bit of trusting your gut. If an idea feels good you should follow it. As far as content goes we take from relationships and experiences, although we try to allude to universal feelings. We want everyone to relate if possible.
We all grew up on noughties indie so that definitely filters into our music. Although as individuals we pull the sound towards our current tastes, such as Lana Del Rey, Nick Cave, Ryan Adams and Sigrid.
In February, you completed a huge headline tour which included some big sell-out shows. How was the reaction? Which was your favourite gig?
It was mad and incredible. In our wildest dreams we couldn't have pictured the crowds we had. All of them were great in different ways so I don't think we can pin one down as the best.
And finally, you've got a day off from tour, what's the first thing each of you do when you get back home?

Henry - Cracks open a beer.
Rory - Makes a cup of tea.
Andrew - Eats a microwaveable Chicken Tikka Masala.
Oliver - Waves at an Aubergine by a lake - not really!
Sea Girls will be at The Bodega with special guests The Pale White on 4th October - TICKETS
Comments