Blog
15th May, 2018
Dot To Dot Festival is known as one of the UK's leading festivals for discovering new artists. Here at The Bodega, we love championing those upcoming artists and showcasing some of the best new music before it blows up. With the big day fast approaching, we've had a look at the artists that will be entering our doors on 27th May. There may be some names on this list that you know and some that you're not so familiar with but we're sure your new favourite band could be here. We've also created a Spotify Playlist with all the artists below for you to stick on Shuffle and find those gems.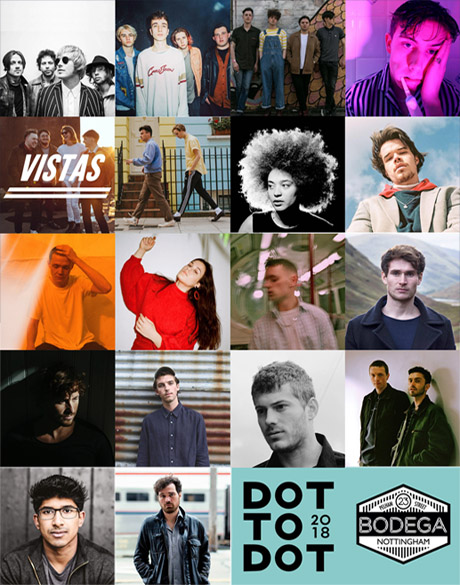 Upstairs – Doors: 13.00
00.00 – 00.30 – Secret Headliner: We can't reveal too much about this just yet but we CAN tell you that it'll be a huge party set to close your day in style… Keep eyes peeled for more!
23.00 – 23.30 – Slydigs: Mixing classic rock 'n' roll with modern blues and a fiery energy. FFO: The Who, The Strypes and Miles Kane.
22.00 – 22.30 – Dead!: Get the pits ready for this epic rock quartet with mighty riffs and giant pop-punk style singalongs. FFO: Mallory Knox, Milk Teeth and Don Broco
21.00 – 21.30 – No Hot Ashes: Swaggering funk-pop, packed with raspy vocals and disco guitars. FFO: Blossoms, The Vaccines and The Wombats.
20.00 – 20.30 – Devon: Massive indie-pop hooks, known for chaotic live shows. FFO: The Neighbourhood, Rat Boy and Declan McKenna.
19.00 – 19.30 – Vistas: Shimmering Scottish indie-rock quartet with stadium sized choruses. FFO: The Magic Gang, Circa Waves and Marsicans.
18.00 – 18.30 – KAWALA: Sun-soaked indie-folk built for Summer festival stages. FFO: Saint Raymond, Sunset Sons and Lewis Watson.
17.00 – 17.30 – Connie Constance: Chilled soulful gems with a killer voice and timeless lyrics. FFO: Yazmin Lacey, Laura Mvula and Ady Suleiman.
16.00 – 16.30 – Oscar Jerome: Soulful vocals and ridiculous guitar solos over stunning jazz compositions. FFO: Tom Misch, Ezra Collective and Rex Orange County.
15.00 – 15.30 – Westerman: Brooding, spacey electro-folk, with sprinkles of guitar flourishes. FFO: Nilufer Yanya, Soccer Mommy and Ought.
14.00 – 14.30 – Malena Zavala: Dreamy pysch-folk packed with a lush blend of wistful vocals and guitar licks. FFO: Goat Girl, Fenne Lily and The Big Moon.
13.00 – 13.30 – Puma Blue: Moody and sultry blends of hip-hop and jazz, creating atmospheric lo-fi. FFO: Cosmo Pyke, Yellow Days and Babeheaven.
Downstairs Bar – Doors 13.00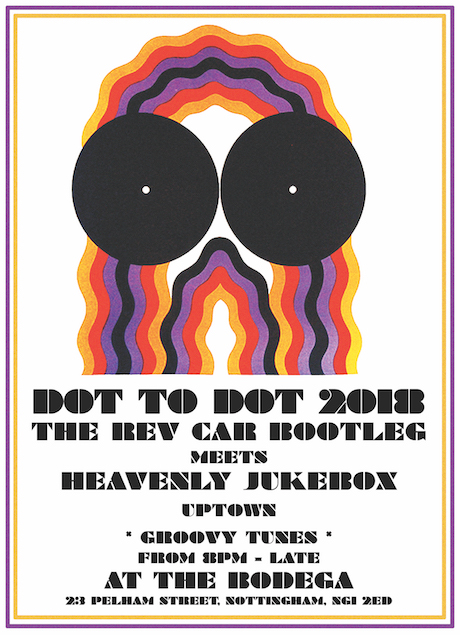 20.00 – late – Rev. Car-Bootleg meets Heaveny Jukebox Uptown: Martin Nesbitt and Jeff Barrett DJ back to back
19.30 – 20.00 – Daniel Docherty: Serene songwriting from one of the best voices in acoustic music. FFO: Ben Howard, Luke Sital-Singh and Calum Scott.
18.30 – 19.00 – Harrison Storm: Australian singer-songwriter with millions of followers thanks to his honest and tranquil acoustic gems. FFO: Dermot Kennedy, Matt Corby and Billie Marten.
17.30 – 18.00 – Sam Johnson: Foot-stomping alt-folk anthems with soaring vocals, ending with spine-tingling heights. FFO: Bear's Den, Dry the River and Tom Walker.
16.30 – 17.00 – Peter Oren: Indiana-born songwriter with deep and rich vocals that can silence a packed room. FFO: Lewis Capaldi, Jake Bugg and Rag 'n' Bone Man.
15.30 – 16.00 – Chappaqua Wrestling: Sweet-Americana music with an electronic swooning twist. FFO: whenyoung, Sports Team and Declan McKenna.
14.30 – 15.00 – Soham De: Husky vocals from a fine talent with delicate finger-picked guitar melodies. FFO: Benjamin Francies Leftwich, To Kill a King and Tom Walker.
13.30 – 14.00 – Joey Costello: Originally from Chicago and now residing in Notts, Joey writes personally gorgeous folk-influenced masterpieces. FFO: James Vincent McMorrow, Damien Rice and Passenger.
Listen to our Dot To Dot Spotify Playlist here...

Book your tickets: bit.ly/2IeBuWI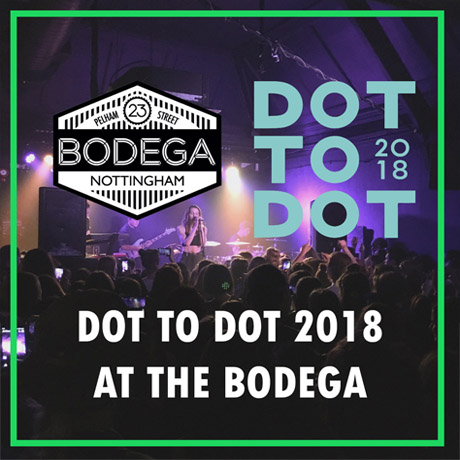 Comments