Blog
1st May, 2018
Saying that this is Bloxx's first headline tour would suggest that the band don't have touring experience but how wrong that presumption would be. March saw them play a sold-out Alexandra Palace as support for The Wombats on their nationwide tour, following stints on the road with Sundara Karma and Pale Waves too. Now with their singles hitting the Radio 1 airwaves and festival stages set, it's time for Bloxx to be at the top of your Summer playlists. We caught up with the quartet below ahead of their Bodega show on 8th May.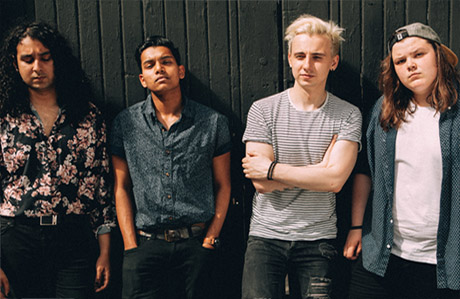 Hey Bloxx! Can't wait to have you here but for those who may have not heard you before, what can they expect from a Bloxx show?
They can expect a really lively show, energy and a lot of fun! Maybe a bit of sweat, and the best support bands also…
'Novocain' is an almighty tune! How does it feel to get it out to the world?
Thank you! I think that was a tune we were all really excited to release, I reckon it's one of our favourites. We had it ready for so long so it was hard to wait to unleash it.
Tell us briefly about the process in creating the song. Where did the inspiration come from? Did lyrics or the instrumentation come first?
Instrumentation tends to come first, we always play out a tune a few times before I figure out exactly what I feel the song is supposed to be about. We wrote 'Novocain' over like 3/4 times and it became what it is now and we think that went entirely better than expected the first 3 times!
You've toured with Pale Waves, Sundara Karma and The Wombats. Have you learnt anything from being on the road with such huge bands?
Learning how to do long tours and tips and tricks of such great artists has been such a highlight for us. We strive to be just as humble and grounded and wonderful as all of the bands we've toured with. I learnt loads of useful tour wardrobe tricks to extend the cleanliness of any gig outfit, and also really helpful vocal tricks that stop me from losing my voice.
Does your approach to headline shows change to support gigs?
I'd say not really, just because we try to give 100% of our energy and focus to every gig we play, support or headline. It's important that fans go away enamoured and impressed, but I think our headline tour will see a new element of fun and passion in our set.
And finally, what are you most excited to get up to on this big headline tour?
We're so excited to be able to play headline shows for the first time ever, and play the cities that we love so much again. We can't wait to visit Northern cities and have cheap pints and see friends. I think London in particular is exciting for us as it's our first ever London headline show and we're so ready for it!
Bloxx will be at The Bodega in Nottingham on 8th May - TICKETS

Comments