Blog
21st December, 2017
Liverpool teenagers The Night Café are indie's newest kids on the block. Selling out headline shows and packing out festival crowds all before their debut album, this quartet are the new band you need to know thanks to their intricate guitar riffs and soaring melodies. We caught up with Sean, Carl, Josh and Arran on their upcoming shows, new music and how the Bodega crowd can ruin their equipment…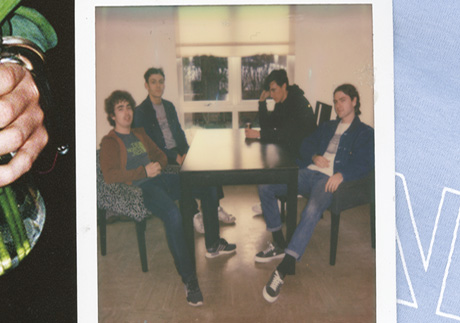 Hello The Night Café! Looking forward to having you here but for those who haven't seen you before, what can they expect from the live show?
What's happenin!I think people should just expect to have a good time at a heavy show with lots of good music.
Your music radiates sunny indie-pop vibes with an underlying dark edge. Where did the inspiration for your sound come from?
We all listen to lots of different music, we don't focus on a certain genre or band really. We love bands like Title Fight, Basement, Brockhampton and love artists like Jordan Rakei and Tom Misch. That just scrapes the surface, it's a very mixed bag.
You've spent time supporting Blaenavon, Sundara Karma and The Hunna. How do headline shows differ?
Our headline shows just go off more for us and just feel that bit more special!
Your debut EP 'Get Away From The Feeling' had a great response, how's new material shaping up?
Our second EP will be out early next year. There's not much I want to give away apart from its a lot darker than the last but it's also filled with some ruthless songs too.
You've played Nottingham various times at The Bodega, Rescue Rooms and at Dot to Dot. What memories do you have of playing the city previously?
Nottingham's always been boss! When we had our first headline show in The Bodega, it sold out on the night and we had a stage invasion (which we don't like 'cause it fucks all our equipment up) but the novelty of it was worth it hahaha!
There's a day off from tour, what's the first thing each of you do when you get back home?
Normally we all just chill and have a day to ourselves. Or if we are off in a different city we have a day out sightseeing and that.
And finally, what's the one thing each of you would like to achieve in 2018?
Sean - 'happiness and positivity'
Carl - 'the respect of every genre'
Josh - 'We are going to figure out how to do everything we want to do, as that's what we've been doing and it's working'
Arran - 'Make even more bangers'
The Night Café will be at The Bodega on 24th January – TICKETS
Comments