Blog
The Rev's guide to some obscure Halloween treats...
31st October, 2013
 Roky Erickson
"I am the Lone Rangers friend Billy Jack, the drunk werewolf of woodstock, saying ahh oooh werewool-aah!"
Where do I begin ?
Pretty much his entire output since the mid-seventies lends itself to the horror genre, but it hasn't always been like that…
Born in Austin Texas 1947 he learnt to play the piano from the age of five, and guitar from the age of ten. However the young Rokys musical world changed dramatically as he hit his teens. The British invasion and the discovery of domestic US talents like Bob Dylan, inspired kids all over America to pick up instruments and head for the garage…
His first band proper THE SPADES had a regional hit with the Roky penned "We Sell Soul".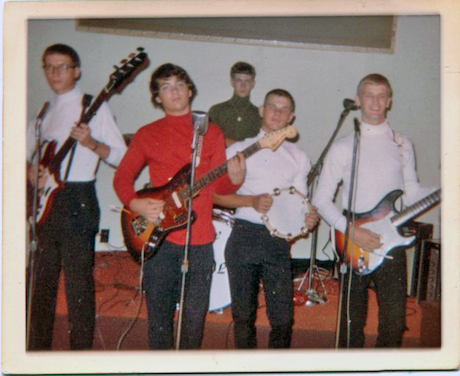 Then sometime around the end of 1965 he was poached by a new up 'n coming Austin band of heads, the 13th FLOOR ELEVATORS.
Eager to turn the world onto their unique blend of jug-band psychedelic soul beat music.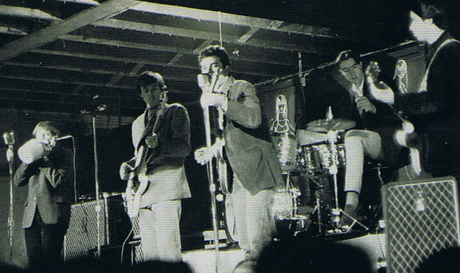 Within months they were in the studio recording another of Roky's old SPADES tunes.
Originally released locally on the Contact label in January 1966, but then picked up and signed to International Artists of Houston they had a national US hit with "You're Gonna Miss Me" by October of that year.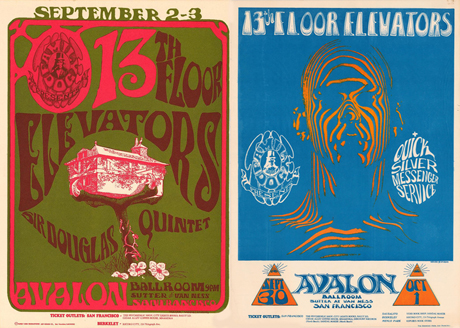 Touring, regular appearances in San Francisco at the Avalon and Fillmore, plus numerous TV appearances throughout the summer of love.
Set the band up nicely for the release of their first album 'The Psychedelic Sounds of…' in November 1966.
Their timing and their message did seem impeccable for the emergent new counter-culture.
A second album 'Easter Everywhere' (their best in my humble opinion) was released a year later in November 1967, but really the cracks within the band were beginning to show.  -  The classic artistic differences, and drugs.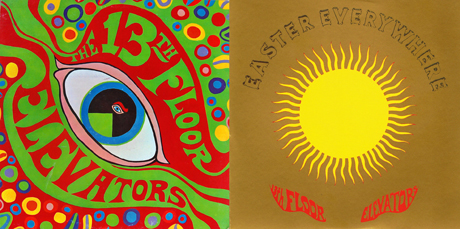 Copious amounts of psychedelics consumed and enthusiastically endorsed by one half of the band, whilst been condemned by the others. With such high profile drug use came the attention of the local Austin law enforcement officers, determined to make an example of them. Added to this, the increasingly fragile state of Roky's mind. He appeared to be on a very similar journey to that of UK musician, Syd Barrett of the Pink Floyd.
In 1968 after various incidents Roky was diagnosed with paranoid schizophrenia and packed off for electroshock therapy.
In 1969 after been busted for a single marijuana joint and looking at a 10 year sentence he pleaded guilty by reason of insanity and opted for a spell in the Austin State Hospital. Only to eventually end up (after several escapes) in Rusk State Hospital for the Criminally Insane, where he remained till 1972 suffering yet more electroshock therapy and Thorazine treatments.
Sometime around late 1974 early 1975, he formed his first post-Elevators band BLIEB ALIEN, and officially declared himself a Martian…
"I am NOT a member of the human race and I am in fact from a planet other than earth. I hope that this will prove to the person who is putting electrical shocks to my head that I am an alien."
• from Roky's declaration drawn up by his lawyer Peggy Underwood.
However it wasn't really until 1977 that his musical profile became more raised outside of his native Texas. Live shows, singles, wacked-out radio interviews and resurgent interest** in the Elevators helped fuel his increasingly mythological status.
(** Technically speaking the band never had anything other than a few singles released outside of the U.S.A., but in 1972 "You're Gonna Miss Me" appeared on the legendary Nuggets compilation, and later in 1978 Radar Records reissued their first two albums domestically here in the UK.)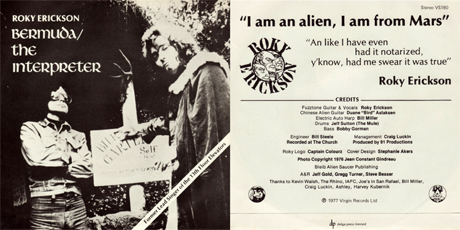 Virgin records home of the Sex Pistols, licensed the 7" "Bermuda/The Interpreter" for the UK market.
Then in 1979 major label CBS, decided they wanted a piece of the action. Domestically releasing his debut album - Roky Erickson & The Aliens (aka TEO), both here in the UK and in Holland.
Whilst in the U.S. it fell to San Francisco independent (punk/new wave) label 415 Records to release a slightly re-jigged version under the title of "The Evil One" a year later in 1980.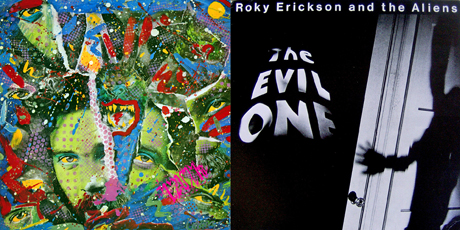 The backdrop to all of this was however very confusing, and not very conducive to any kind of mental stability.
Relationship problems, two wives, kids, heavy drug use, abstention, prescribed medication, severe line up problems with various backing bands and all the while becoming more obsessed with horror 'n demons whilst communicating via babbling comic stream-of-conciousness.
In short what Roky really needed was probably a full-time carer and not the rock 'n roll lifestyle – although the playing of his guitar and singing did seem to be a calming influence on his psyche.
As you can see in this footage from 1983, filmed thirty years ago exactly on this very day – he does not look or sound like a particularly well man.
This downward spiral continued all the way through up until 2001, when his brother Sumner intervened.
Was granted legal custody of him and set up a legal trust for his aid.
All of which is heart-wrenchingly covered in Keven McAlester's sympatheric documentry "You're Gonna Miss Me" (2005)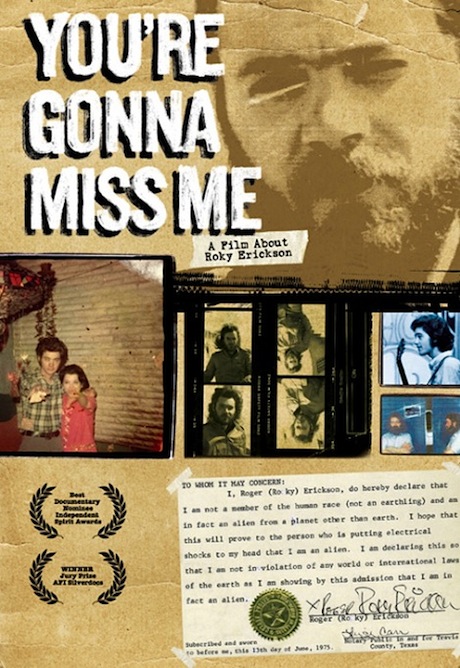 Today Roky is a much improved healthier person, back playing live and recording new material.
I know, because I made the pilgrimage to the Royal Festival Hall London, in June 2007 to see him play live as part of the Jarvis Cocker Meltdown festival.
His first ever appearance in the U.K. - an honour and a privilege to behold.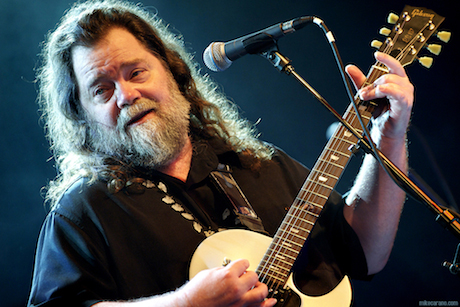 Thank you for dropping by, your pal The Rev XXX
Anybody out there feeling the need to dig a little deeper, (and I strongly advise it) should check out Paul Drummonds fantastically in depth book.
'EYE MIND: The Saga of Roky Erickson & the 13th FLOOR ELEVATORS'
ISBN-10: 0976082268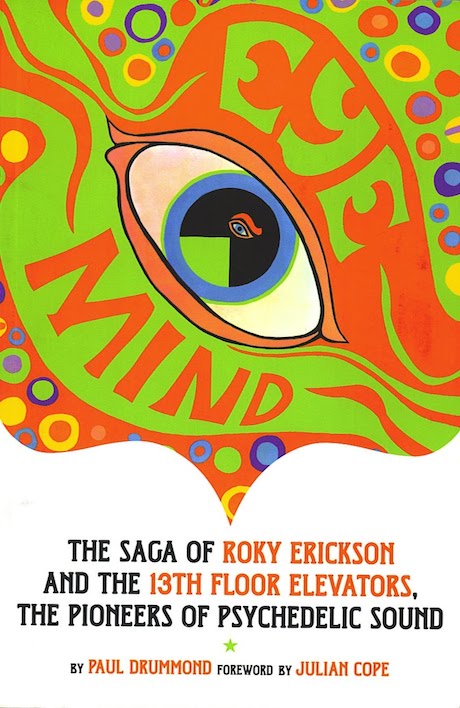 Comments