The Bodega Bar and Garden, Nottingham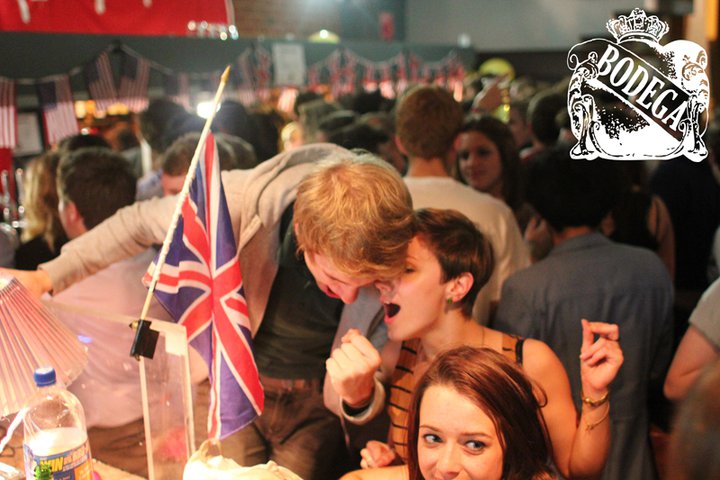 Our bar is one of the highlights of Nottingham night life and a great destination for socialising, partying and catching up with friends. Our after work Sociable Hour sessions (a selection of drinks starting at £2 from 4-9pm) mean it's always a friendly place to come and wash away the day's worries whilst DJs almost every night of the week in the downstairs bar keep that fresh music flowing. Info on those below.
The beer garden is one of the city centre's most beautiful; the trademark hanging lights illuminating many an after work drink and late night get together, whilst throughout the summer our regular acoustic sessions, art events and barbecues affirm the garden's place as one of the coolest and cosiest corners of the city centre to hide away from it all and enjoy some nice drinks.
Mondays - Happy hour prices all night!
Sounddhism Sessions. A laid back jam from the Sounddhism residents - playing the finest hip-hop, soul, jazz, afrobeat, latin, breaks, house and electronic with a international outlook. Expect new sounds all round.
Bring Your Bear. Rock 'n' roll, swing, balkan beat and scuzzy garage rock; expect a festival style circus of sounds from all end of the spectrum and a warm atmosphere whatever the weather.
Tuesdays - Strictly vinyl
Pomegranates. Reggae, funk, ska, hip-hop, and world sounds from selector Maxi Dread; the best tunes you'll find in town on a Tuesday night. Perfect to take your from chilled through to the party hours.
Out of the Woods. The woodland brothers bring you the finest in pastoral indie and electronic tunes from a night which has featured in the Guardian's club picks of the week on several occasions and continues to go strong.
Thursdays - New guitar music
Boston Tea Party. Atlantic spanning guitar tunes and electronica - think At the Drive-in, Trophy Wives, Arcade Fire, Panda Bear, Les Savy Fav, Caribou and plenty more great music along those lines.
Comments